Software
Batch-PMS
The PC-based software Batch-PMS enables the operation, monitoring and control of batch-oriented and recipe-based production processes.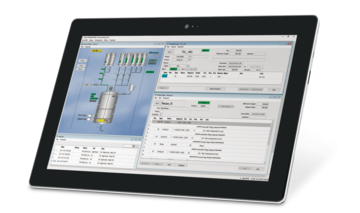 Product details
Software Batch-PMS
The Batch-PMS software has all the basic functions of modern process control technology, including multi-user operation. By means of the integrated control system, weighing and process batch applications can be easily automated. Its modular performance spectrum is suitable for both simple and complete batching processes. Batch-PMS guarantees seamless integration into your network and system structures. It includes modules for process control, production management, recipe management, data management and many other options. The integrated process visualisation provides a quick status overview and enables easy operation. With its integrated backup functionality, the software ensures the security of your data.
Explainer video - Software Batch-PMS
Applications
Filling and Dosing

Statistics

Weighing
Product type
Software
Dosing and Formulation
Product handling
Easy integration into existing network and system infrastructures
Excellent connectivity
Industrial solutions
Our products for your production processes
Our systems and services are oriented towards the requirements of our customers from a wide range of industries. In this way, we ensure that with Minebea Intec you can design your production processes safely and efficiently without having to make compromises. This starts with individual product features and stops only after exceeding global standards.
Food & Beverage
Chemical
Cosmetics
Building Materials
Food & Beverage
Minebea Intec is a leading supplier of weighing and inspection technologies to the food and beverage production industry. Armed with a deep understanding of the challenges food and drink manufacturers face, the company has developed a range of products and solutions that are perfectly tailored to meet their needs in relation to quality and food/drink safety, while also enhancing efficiency and protecting production equipment.
Our solutions for food and beverage industry
Cosmetics
The highly automated processes in cosmetics production require precise measurement results. Minebea Intec offers versatile industrial weighing solutions for a wide range of applications as well as a broad spectrum of dosing, formulation, sorting, filling and packaging solutions.
Our solutions for cosmetics industry
Building Materials
For the weighing of building materials, the Minebea Intec portfolio offers the appropriate robustness, durability and IP protection class. Robust dosing, filling and metal detection equipment is also supplied.
Our solutions for the building materials industry
Product finder