X-ray inspection system
Dylight
The X-ray inspection system Dylight guarantees extremely high levels of safety for your packaged food.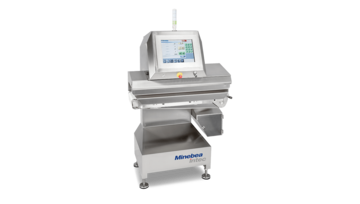 This true 'Plug and Play' solution combines all functions in one compact unit.
Extremely compact design
Plug and Play: All functions in one unit
Takes up only one metre of space in your production line
Complete with separator and run-off container
Maximum product safety thanks to the highest degree of detection sensitivity
Intuitive, time-saving operation
Easy installation and integration into networks
Product video X-ray Inspection System Dylight
Applications
Counting

Fill quantity control

Foreign body detection

Statistics

Weighing
Dylight - new product set-up
Product video X-ray Inspection System Dylight – New product set-up
Dylight - quick and tool-less belt change
Product video X-ray Inspection System Dylight – Quick and tool-less belt change
Product details
| Technical Data | Dylight |
| --- | --- |
| X-ray power | 65 kV, 1 mA |
| Detector resolution | 0.8 mm (standard) 0.4 mm (optional) |
| Belt Speed Range | 10 to 49 m/min |
| Approval | CE | UL |
| Human Interface | 15 inch touchscreen |
| Radiation Safety | FDA CFR 21 part 1020,40 |
| Protection Rating | IP 54 (complete system) | IP 65 (detection area) |
| Conveyor Height | 800 mm (+200 mm) |
Get the most out of your X-ray inspection
Ever since Wilhelm Conrad Röntgen discovered the 'invisible rays' on 8 November 1895, X-ray diagnostics has become an establis-hed practice in many fields. Today, X-rays are not only used for medical purposes, but also support the food industry in its aims to ensure food quality and safety.
Industrial solutions
Our products for your production processes
Our systems and services are oriented towards the requirements of our customers from a wide range of industries. In this way, we ensure that with Minebea Intec you can design your production processes safely and efficiently without having to make compromises. This starts with individual product features and stops only after exceeding global standards.
Pharmaceutical
Food & Beverage
Machinery / OEM
Logistics
Food & Beverage
Minebea Intec is a leading supplier of weighing and inspection technologies to the food and beverage production industry. Armed with a deep understanding of the challenges food and drink manufacturers face, the company has developed a range of products and solutions that are perfectly tailored to meet their needs in relation to quality and food/drink safety, while also enhancing efficiency and protecting production equipment.
Our solutions for food and beverage industry
Machinery / OEM
Process integrators and machine manufacturers in various industry sectors can benefit from the precision, hygienic design, corrosion resistance and ingress protection offered by Minebea Intec equipment. A wide product range is available.
Our solutions for machinery / OEM
Logistics
Modern logistics processes require innovative and reliable weighing solutions. Minebea Intec truck scales, industrial scales and specialised checkweigher solutions deliver accurate and traceable results every time - from goods in to despatch.
Our solutions for logistics industry
Mediacenter
Category
File Name
File Size
File Type
Best Practices
Best Practices
Best Practice // Minebea Intec responded quickly to customer requirements with X-ray solution
1,30 MB
pdf
Best Practice // Minebea Intec wins the race against time with its fast X-ray inspection system
845 KB
pdf
Best Practice // An X-ray inspection system from Minebea Intec tackles even the most complex requirements in yoghurt production
1,28 MB
pdf
Best Practice // Food manufacturer saves £80k per year using Minebea Intec X-ray system
784 KB
pdf
Datasheet
Datasheet
Datasheet // X-ray inspection system Dylight
1,08 MB
pdf
Datasheet // Spare Part Packages for X-ray inspection systems
1,19 MB
pdf
Datasheet // X-ray inspection system Dymond
3,43 MB
pdf
Datasheet // X-ray inspection system Dymond Bulk
2,38 MB
pdf
Datasheet // X-ray inspection systems Dymond S, DSV, D
5,09 MB
pdf
Datasheet // X-ray inspection system Dypipe
1,34 MB
pdf
Brochure
Brochure
Brochure // X-ray Inspection Systems
3,97 MB
pdf
Video
Video
X-ray Inspection System Dylight
11 B
youtube
X-ray Inspection System Dylight – Quick and tool-less belt change
11 B
youtube
X-ray Inspection System Dylight – New product set-up
11 B
youtube
Product finder