Weighing electronics
Combics® 2 Ex (CAIXS2)
Combics provides support in all areas of your process chain, from manual formulations up to PC- controlled production checks. The modular system allows tailor-made configuration of the individual components for each area.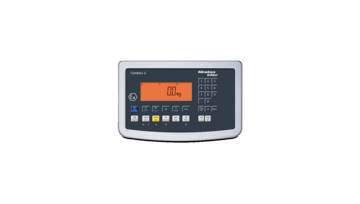 Product features
Weight indicator CAIXS2
For use in explosive areas (certificates: IECEx | ATEX Zone 1 | 2 | 21 | 22 and FM Class I, II, III Div. 1)
LCD display, 20mm, 14 segments, 7 digit weight value with status information, back lit
Housing in stainless steel, IP69K
Scale connection for analogue Ex platforms, as e. g. Combics Ex, IU EX, IF EX or Ex load cells. Optional also digital IS Scales (xBPI)
Serial interface RS232 | 485 | 422
Div. power supplies available, also battery pack
Fieldbus Profibus DP and 4 ... 20 mA interface
Applications
Classification

Counting

Filling and Dosing

Formulation

Weighing
Certifications
Product details
The Combics series supports the production of high-quality, appealing and safe products. The unrivaled precision of Combics helps to control flexible production, reduce costs and improve product quality.
The hygienic design of our solutions complies with today's extremely important hygiene regulations without compromise. The devices can be cleaned very easily and thus allow Combics to be used even under tough conditions and with high safety standards. The materials and surfaces used significantly contribute to minimizing contamination risks. All Combics scales meet EHEDG specifications.
Combics 2 Ex also offers a wide range of applications including counting, checkweighing, SQ Min, totalizing, formulation and classification.
Webinar
Installation examples and applications for ex zones
Devices available for hazardous are, such as indicators, controllers, weighing platforms and various accessories
Suitability of the devices to particular zones
Possible combinations of the available devices
Examples of various installation and their benefits
Important point regarding correct installation
Industrial solutions
Our products for your production processes
Our systems and services are oriented towards the requirements of our customers from a wide range of industries. In this way, we ensure that with Minebea Intec you can design your production processes safely and efficiently without having to make compromises. This starts with individual product features and stops only after exceeding global standards.
Pharmaceutical
Food & Beverage
Cosmetics
Chemical
Building Materials
Machinery / OEM
Food & Beverage
Minebea Intec is a leading supplier of weighing and inspection technologies to the food and beverage production industry. Armed with a deep understanding of the challenges food and drink manufacturers face, the company has developed a range of products and solutions that are perfectly tailored to meet their needs in relation to quality and food/drink safety, while also enhancing efficiency and protecting production equipment.
Our solutions for food and beverage industry
Cosmetics
The highly automated processes in cosmetics production require precise measurement results. Minebea Intec offers versatile industrial weighing solutions for a wide range of applications as well as a broad spectrum of dosing, formulation, sorting, filling and packaging solutions.
Our solutions for cosmetics industry
Building Materials
For the weighing of building materials, the Minebea Intec portfolio offers the appropriate robustness, durability and IP protection class. Robust dosing, filling and metal detection equipment is also supplied.
Our solutions for the building materials industry
Machinery / OEM
Process integrators and machine manufacturers in various industry sectors can benefit from the precision, hygienic design, corrosion resistance and ingress protection offered by Minebea Intec equipment. A wide product range is available.
Our solutions for machinery / OEM
Product finder