Software
miOPC
Your OPC UA Server for easy scale integration.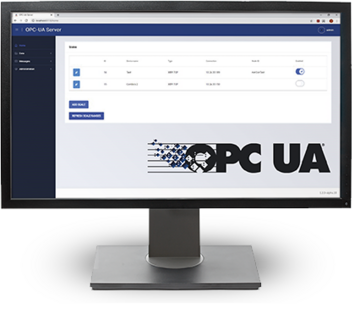 Product features
Software miOPC
OPC UA (Open Platform Communications Unified Architecture) is a standard for communication in the field of industrial automation - more precisely: a machine-to-machine communication protocol for industrial automation. The server enables cross-operating system data exchange between, for example, scales and higher-level systems such as ERP or MES systems. miOPC is suitable, for example, for the Combics, Signum, Midrics and IS platforms.
With miOPC, Minebea Intec, as an innovation leader, offers a new solution for the market that takes an important step towards standardisation and customer independence. miOPC complies with the new OPC UA interface standard according to the "OPC UA Compendium Specification for Weighing Technology". This was created by leading weighing manufacturers and in cooperation with theVDMA and ISW Stuttgart and will become the new standard in weighing technology.
Your benefits:
Simple connection of existing scales via Ethernet TCP/IP or serial RS232
Standard OPC UA scale profile according to the OPC Foundation: "OPC UA Compendium Specification for Weighing
Data security through encryption
Simple, intuitive operation
Applications
Counting

Filling and Dosing

Formulation

Weighing
Certifications
Integration
The miOPC software installs the OPC UA Server as a service, allowing the integration of existing scales into the IT structure. A simple retrofit saves many costs and risks.
Compliance
The OPC UA Server fully complies with the "OPC UA Compendium Specification for Weighing Technology". This means that the values are transmitted in a standardised format.
Data security
Current algorithms for encrypting the data meet the highest demands for data security between server and client. This is especially important for transmissions via the internet.
Intuitive interface
The server is administered via a browser application. Applications are carried out via an intuitive user interface. User and password protect against unauthorised access.
Applications
miOPC is the ideal server solution for integrating scales into the IT infrastructure
The miOPC software installs the OPC UA server as a service and thus enables the integration of scales into the existing IT structure. Thus, the weighings can be recorded via the standard protocol in the customer's software.
Demo Software Download
A 30 day demo software is available for download
How do you optimize your process control?
Statistical process control is an essential component of many quality management systems. Inspection points at relevant process steps and in meaningful chronological order result in important key figures for process optimization and support you in
Guarantee of consistent product quality
Increase of economic efficiency
Documentation of product quality as evidence of compliance with regulations
Error prevention through early intervention in the process
Industrial solutions
Our products for your production processes
Our systems and services are oriented towards the requirements of our customers from a wide range of industries. In this way, we ensure that with Minebea Intec you can design your production processes safely and efficiently without having to make compromises. This starts with individual product features and stops only after exceeding global standards.
Food & Beverage
Chemical
Pharmaceutical
Logistics
Machinery / OEM
Cosmetics
Food & Beverage
Minebea Intec is a leading supplier of weighing and inspection technologies to the food and beverage production industry. Armed with a deep understanding of the challenges food and drink manufacturers face, the company has developed a range of products and solutions that are perfectly tailored to meet their needs in relation to quality and food/drink safety, while also enhancing efficiency and protecting production equipment.
Our solutions for food and beverage industry
Logistics
Modern logistics processes require innovative and reliable weighing solutions. Minebea Intec truck scales, industrial scales and specialised checkweigher solutions deliver accurate and traceable results every time - from goods in to despatch.
Our solutions for logistics industry
Machinery / OEM
Process integrators and machine manufacturers in various industry sectors can benefit from the precision, hygienic design, corrosion resistance and ingress protection offered by Minebea Intec equipment. A wide product range is available.
Our solutions for machinery / OEM
Cosmetics
The highly automated processes in cosmetics production require precise measurement results. Minebea Intec offers versatile industrial weighing solutions for a wide range of applications as well as a broad spectrum of dosing, formulation, sorting, filling and packaging solutions.
Our solutions for cosmetics industry
Product finder