Weighing electronics
X2
The versatile, innovative weighing solution for truck silo / vessel weighing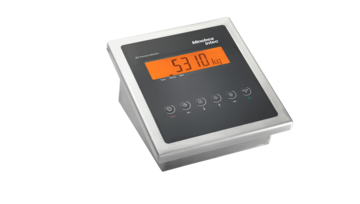 Product details
Weight Indicator X2
The weight indicator X2 is available in a robust aluminium housing for front panel mounting and stainless steel housing for field and table top mounting. The LCD weight display is back-lighted and allows a good readability even under difficult conditions. Three freely configurable digital in- and outputs can control simple process functions. The flexibility of the weight indicator X2 with different options such as serial and digital interfaces or fieldbus allows simple integration into automation systems.
Certifications
Applications
Fill quantity control

Filling and Dosing

Weighing
Product type
Weight indicator
Weighing electronics
Product handling
Housing suitable for cabinet and table top mounting
IP protection class
Table top housing IP 65

Housing IP 30
Material
Aluminum housing with steel back panel
Steel housing Field / Table top
Industrial solutions
Our products for your production processes
Our systems and services are oriented towards the requirements of our customers from a wide range of industries. In this way, we ensure that with Minebea Intec you can design your production processes safely and efficiently without having to make compromises. This starts with individual product features and stops only after exceeding global standards.
Agriculture
Building Materials
Chemical
Cosmetics
Food & Beverage
Machinery / OEM
Pharmaceutical
Confectionery
Agriculture
The processes in the agricultural industry require robust, reliable solutions with safe measurement results. From truck weighing to metal detection, Minebea Intec's extensive range of weighing and foreign body inspection products, both automated and manual, has a high-quality solution for every need.
Our solutions for agriculture industry
Building Materials
For the weighing of building materials, the Minebea Intec portfolio offers the appropriate robustness, durability and IP protection class. Robust dosing, filling and metal detection equipment is also supplied.
Our solutions for the building materials industry
Cosmetics
The highly automated processes in cosmetics production require precise measurement results. Minebea Intec offers versatile industrial weighing solutions for a wide range of applications as well as a broad spectrum of dosing, formulation, sorting, filling and packaging solutions.
Our solutions for cosmetics industry
Food & Beverage
Minebea Intec is a leading supplier of weighing and inspection technologies to the food and beverage production industry. Armed with a deep understanding of the challenges food and drink manufacturers face, the company has developed a range of products and solutions that are perfectly tailored to meet their needs in relation to quality and food/drink safety, while also enhancing efficiency and protecting production equipment.
Our solutions for food and beverage industry
Machinery / OEM
Process integrators and machine manufacturers in various industry sectors can benefit from the precision, hygienic design, corrosion resistance and ingress protection offered by Minebea Intec equipment. A wide product range is available.
Our solutions for machinery / OEM
Confectionery
Whether for weighing products or detecting foreign objects, our technologies ensure reliable processes in the confectionery industry along the production and packaging line. However, product safety and quality are only one side of the coin.
Our solutions for confectionery industry
Mediacenter
Category
File Name
File Size
File Type
Manual
Manual
Technical documentation X2-PR 5310
3,81 MB
pdf
Weight transmitter CSD-892
3,12 MB
pdf
Weight controller CSD-912
8,65 MB
pdf
Weight indicator CSD-903
1,68 MB
pdf
Weight Controller CSD-918
2,13 MB
pdf
MODEL MP30 - 1/8 DIN DIGITAL WEIGHT INDICATOR
1,24 MB
pdf
MODEL MP30 1/8 DIN DIGITAL WEIGHT INDICATOR
1,27 MB
pdf
Model MP30/31 & MP30/32 Serial communications options cards
294 KB
pdf
Installation Manual PR 5410/03
1,58 MB
pdf
X3 Process Indicator PR 5410
5,35 MB
pdf
Connexx-CANopen interface for X3
702 KB
pdf
Datasheet
Datasheet
Datasheet // Weight Indicator X2
1,79 MB
pdf
Datasheet // Weight indicator X3
571 KB
pdf
Datasheet // Digital weight indicator MP 30
424 KB
pdf
Product finder