Load cells
PR 6241
Compression load cells from 100 kg to 5 t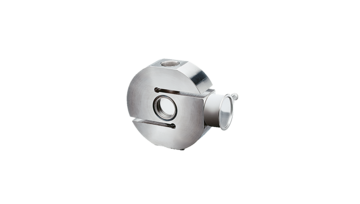 Product features
Compression S-Type Load Cell PR 6241
Specially designed for weighing small and medium-sized process containers and for high-precision dosing. For use in EX zones 1, 2, 20, 21, 22 and FM DIV 1.
Ultra-high precision load cell for batching applications
Load cell capacity range from 100 kg to 5 t
Accuracy class: D1 (0.04 %), C3 (0.015 %) and C6 (0.008 %)
Corresponding mounting kits
Applications
Fill quantity control

Filling and Dosing

Weighing
Certifications
Product details
The PR 6241 range of load cells is specially designed for weighing small and medium sized process vessels and for high-precision dosing. The unique design principle, in combination with the FlexLock-installation kits, makes it possible to counterbalance movements arising from mechanical or thermal expansion or contraction of the vessel or its supporting construction.
Load cell construction
S-shape design with integrated load return. Full stainless steel construction, hermetically sealed, welded, filled with inert gas.
Material
Load cell: 1.4542 (DIN 17440) similar to S604, S622 (B.S.), 17 - 4PH
Protection
IP 68, IEC 529 (equivalent to NEMA 6). The load cell can be submerged in water to a depth of 1.5m for 10,000 hours. Robust, flexible, screened; Sheath: TPE Thermopl. Elastomere, Colour: grey (EX: blue); Diameter: 5 mm, wires 4 x 0.35 mm2; Length: 5 m
Bending radius
Fixed installation: ≥ 50mm; Flexible installation: ≥ 150mm
Corresponding mounting kits: PR 6043 Mini FlexLock, PR 6041 without constrainer, PR 6044 with additional functions and constrainer
Webinar
Load cell as central heart of weighing
Introduction of load cells and weight transmitter portfiolio incl. application areas
Realized weighing applications
Benefits of Minebea Intec weighing solutions
Industrial solutions
Our products for your production processes
Our systems and services are oriented towards the requirements of our customers from a wide range of industries. In this way, we ensure that with Minebea Intec you can design your production processes safely and efficiently without having to make compromises. This starts with individual product features and stops only after exceeding global standards.
Food & Beverage
Pharmaceutical
Chemical
Cosmetics
Machinery / OEM
Food & Beverage
Minebea Intec is a leading supplier of weighing and inspection technologies to the food and beverage production industry. Armed with a deep understanding of the challenges food and drink manufacturers face, the company has developed a range of products and solutions that are perfectly tailored to meet their needs in relation to quality and food/drink safety, while also enhancing efficiency and protecting production equipment.
Our solutions for food and beverage industry
Cosmetics
The highly automated processes in cosmetics production require precise measurement results. Minebea Intec offers versatile industrial weighing solutions for a wide range of applications as well as a broad spectrum of dosing, formulation, sorting, filling and packaging solutions.
Our solutions for cosmetics industry
Machinery / OEM
Process integrators and machine manufacturers in various industry sectors can benefit from the precision, hygienic design, corrosion resistance and ingress protection offered by Minebea Intec equipment. A wide product range is available.
Our solutions for machinery / OEM
Mediacenter
Category
File Name
File Size
File Type
Best Practices
Best Practices
Best Practice // A high-resolution weighing solution for potentially explosive areas
745 KB
pdf
Best Practice // Minebea Intec provides precision solution for Europe's most up to date water based paint factory
669 KB
pdf
Brochure
Brochure
Brochure // Vessel and Silo Weighing
5,99 MB
pdf
Manual
Manual
Compression Load Cell S-Type PR 6241
3,24 MB
pdf
Mounting kits PR 6041/30, PR 6041/40
318 KB
pdf
Mini FLEXLOCK mounting kits PR 6043/30, PR 6043/40
900 KB
pdf
Maxi FLEXLOCK mounting kits PR 6044/00S, ../01S, ../10S, ../11S
569 KB
pdf
Datasheet
Datasheet
Datasheet // Load cell PR 6241, converter Connexx® and mounting kits PR 6041/PR 6043/PR 6044
1,40 MB
pdf
Drawing 3D
Drawing 3D
3D Drawing PDF_Mounting Kit_PR 6044/00, 3D Zeichnung PDF_Einbausatz_PR 6044/00
293 KB
pdf
3D Drawing PDF_Mounting Kit_PR 6044/01, 3D Zeichnung PDF_Einbausatz_PR 6044/01
290 KB
pdf
3D Drawing PDF_Mounting Kit_PR 6044/10, 3D Zeichnung PDF_Einbausatz_PR 6044/10
343 KB
pdf
3D Drawing PDF_Mounting Kit_PR 6044/11, 3D Zeichnung PDF_Einbausatz_PR 6044/11
379 KB
pdf
Product finder