Load cells
NOVEGO®
Hygienic all-in-one solution for reliable weighing of vessels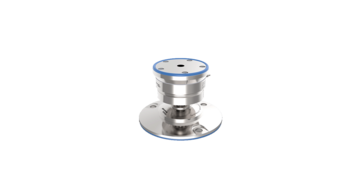 Product details Weighing module Novego®
The weighing module Novego® was specifically developed to meet the increasingly stringent requirements of the food industry. This hygienic all-in-one solution boasts a range of innovative properties to ensure simple, error-free installation and maximum resistance to lateral forces. Novego® ensures process reliability, measurement accuracy and rapid cleaning. The exceptional corrosion resistance of the stainless steel and the product design in accordance with EHEDG guidelines make the weighing module resistant to dirt, water and even aggressive cleaning products. Novego offers innovative features that ensure simple, error-free installation. With the weighing module, you opt for - fast, precise, hygienic installation - and against additional, time-consuming constrainer alignments.
Product video weighing module Novego®
Certifications
ATEX

EAC

FM

IEC-EX

NTEP

OIML
Applications
Fill quantity control

Filling and Dosing

Weighing
Product type
Weighing module
load cell
hygienic solution
Product handling
Use individually or as a weighing module
analogue and digital
Minimum sensitivity to side forces
The weighing module Novego® reliably absorbs lateral forces. The six strain gauges ensure maximum measurement accuracy and prevent incorrect values, even when using mixers.
Measurement accuracy assured, even with side forces of up to 20% of the load
Innovative strain gauges for high measurement accuracy (C3 in accordance with OIML R60)
Fitted with the converter Connexx®, the load cell Novego® offers a whole host of possibilities:
The digital version guarantees fast signalling times for reliable dosing processes.
Thanks to the use of field bus communication, the cable junction box is no longer needed.
The standard interface CANopen ensures straightforward installation and calibration.
CANopen allows for extra-long communication paths of up to 200 m.
Weight values can also be generated individually – per load cell – meaning that defective load cells can be identified more easily.
You need help configuring your weighing or inspection-solution?
Simply send us your questions or requests via the contact form or give us a call. We will be happy to help you.

Request a consultation
Best Practice
Weighing process containers
High Precision, hygienic design weighing solution impresses the pharmaceutical industry
Key facts
The pharmaceutical manufacturer Pharmatec GmbH tasked Minebea Intec with the installation of six vessel scales in its production process for liquid medicines. The application was carried out based on the premise of observing a hygienically clean production environment while achieving precise measurement results.
More about the challenge
Challenge
High-precision and reliable weighing technology was an essential prerequisite to ensure all requirements were met. Even the smallest deviations can lead to potentially harmful consequences in the production of medicines. Pharmatec therefore decided on the weighing module Novego from Minebea Intec.
In addition to the process requirements, the local conditions also presented additional challenges and several visits by specialist staff were required just for the constructive planning. Among other issues, the plant manufacturer had the problem that an inconveniently placed pump made construction more difficult.
More about the solution
Solution
The Novego weighing module offers an integrated stepless height adjustment of up to 8 cm, allowing different installation heights. The integrated installation kit consisting of 360° restraint, anti-lift device and anti-tilt device makes time-consuming handlebar alignment unnecessary.
The special resistance to lateral forces and the hygienic design made Novego the ideal weighing solution. In a production plant in the pharmaceutical industry, easy and residue-free cleaning must be guaranteed for maximum sterility. Accuracy class C3 according to OIML also ensures that the measuring accuracy and reproducibility of formulations are maintained.
More about the customer
Customer
Pharmatec GmbH is part of Robert Bosch Packaging Technology GmbH and is the competence centre for pharmaceutical process systems in the group. The company is a technology leader in the sector of plant manufacturing for the production of liquid substances and medicines.
Innovative, hygienic, precise and easy to install
With the Novego® weighing module, Minebea Intec offers an innovative, hygienic and in many respects insensitive solution for weighing containers. In the free How-to Guide you will learn which features make the weighing module a strong weighing solution for a variety of applications in the food industry.
Industrial Solutions
Our products for your production processes
Our systems and services are oriented towards the requirements of our customers from a wide range of industries. In this way, we ensure that with Minebea Intec you can design your production processes safely and efficiently without having to make compromises. This starts with individual product features and stops only after exceeding global standards.
Chemical
Cosmetics
Food & Beverage
Machinery / OEM
Pharmaceutical
Confectionery
Plastics
Dairy
Cosmetics
The highly automated processes in cosmetics production require precise measurement results. Minebea Intec offers versatile industrial weighing solutions for a wide range of applications as well as a broad spectrum of dosing, formulation, sorting, filling and packaging solutions.
Our solutions for cosmetics industry
Food & Beverage
Minebea Intec is a leading supplier of weighing and inspection technologies to the food and beverage production industry. Armed with a deep understanding of the challenges food and drink manufacturers face, the company has developed a range of products and solutions that are perfectly tailored to meet their needs in relation to quality and food/drink safety, while also enhancing efficiency and protecting production equipment.
Our solutions for food and beverage industry
Machinery / OEM
Process integrators and machine manufacturers in various industry sectors can benefit from the precision, hygienic design, corrosion resistance and ingress protection offered by Minebea Intec equipment. A wide product range is available.
Our solutions for machinery / OEM
Confectionery
Whether for weighing products or detecting foreign objects, our technologies ensure reliable processes in the confectionery industry along the production and packaging line. However, product safety and quality are only one side of the coin.
Our solutions for confectionery industry
Product finder