Single Point load cell
U2D1
Easy integration into dynamic checkweighers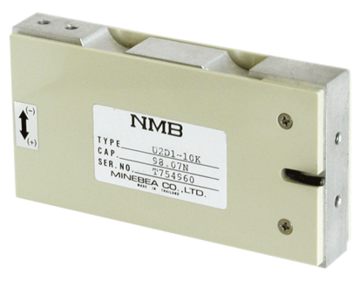 Product details
MinebeaMitsumi Single Point Load Cell U2D1
Ideal for installation in checkweighers: The single point load cell U2D1 is ideal for dynamic applications due to its design. Suitable for load ranges from 3 kg to 100 kg and a platform size of up to 200 mm × 200 mm.
Applications
Fill quantity control

Filling and Dosing

Weighing
Product type
Single point load cell
For integration in checkweighers up to 100 kg
Product handling
Easy integration
weighing electronics optionally available
Find instead of search
Visit our shop and choose the guaranteed best single point load cell for your requirements.
Industrial Solutions
Our products for your production processes
Our systems and services are oriented towards the requirements of our customers from a wide range of industries. In this way, we ensure that with Minebea Intec you can design your production processes safely and efficiently without having to make compromises. This starts with individual product features and stops only after exceeding global standards.
Agriculture
Chemical
Food & Beverage
Machinery / OEM
Building Materials
Agriculture
The processes in the agricultural industry require robust, reliable solutions with safe measurement results. From truck weighing to metal detection, Minebea Intec's extensive range of weighing and foreign body inspection products, both automated and manual, has a high-quality solution for every need.
Our solutions for agriculture industry
Food & Beverage
Minebea Intec is a leading supplier of weighing and inspection technologies to the food and beverage production industry. Armed with a deep understanding of the challenges food and drink manufacturers face, the company has developed a range of products and solutions that are perfectly tailored to meet their needs in relation to quality and food/drink safety, while also enhancing efficiency and protecting production equipment.
Our solutions for food and beverage industry
Machinery / OEM
Process integrators and machine manufacturers in various industry sectors can benefit from the precision, hygienic design, corrosion resistance and ingress protection offered by Minebea Intec equipment. A wide product range is available.
Our solutions for machinery / OEM
Building Materials
For the weighing of building materials, the Minebea Intec portfolio offers the appropriate robustness, durability and IP protection class. Robust dosing, filling and metal detection equipment is also supplied.
Our solutions for the building materials industry
Product finder