Inspection solutions
Secus®
Highly efficient and effective protection of employees and machines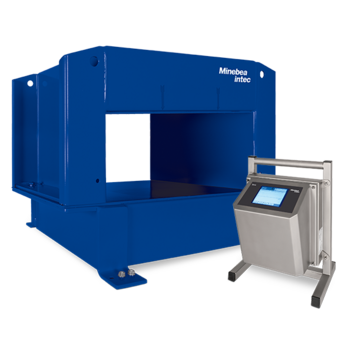 Product details Metal Detector Secus®
The Secus® metal detector provides highly efficient and effective protection for your machines. It prevents the penetration of metallic foreign bodies into your production process and thus reduces downtimes due to repairs to a minimum. Furthermore, your employees are also reliably protected from injuries caused by splintering metal parts. Designed especially for heavy industry, Secus is particularly convincing due to its extremely robust design and detection sensitivity, which has been optimised especially for the raw materials industry.
Applications
Foreign body detection

Statistical process control
Product type
metal detection
metal detection coil
Product handling
Foreign object detection
especially for bulk material
can be positioned differently on the conveyor belt
Product enhancements
Model variants
Secus is available in various designs for ideal integration into your production process.

Secus-C
The standard coil which ensures maximum sensitivity
Secus-D
The divisible coil which can be installed around your conveyor belts without separating them. It can also be removed without affecting the conveyor belt.
Secus-U
The under-belt coil which is positioned beneath the conveyor belt.

Learn more
You need help configuring your weighing or inspection-solution?
Simply send us your questions or requests via the contact form or give us a call. We will be happy to help you.

Request a consultation
Increase your expertise in foreign object detection
Preventive measures and foreign object management have become increasingly important in the food industry. One reason for this can be found in the changing requirements of food standards. Another reason is the public's increased sensitivity to contaminated and defective products. In the age of the media, product recalls can mean much more than economic losses: in the worst case, they damage the image of the entire company.
Industrial Solutions
Our products for your production processes
Our systems and services are oriented towards the requirements of our customers from a wide range of industries. In this way, we ensure that with Minebea Intec you can design your production processes safely and efficiently without having to make compromises. This starts with individual product features and stops only after exceeding global standards.
Chemical
Machinery / OEM
Plastics
Machinery / OEM
Process integrators and machine manufacturers in various industry sectors can benefit from the precision, hygienic design, corrosion resistance and ingress protection offered by Minebea Intec equipment. A wide product range is available.
Our solutions for machinery / OEM
Product finder