X-ray inspection system
Dypipe
X-ray inspection for viscous and liquid foods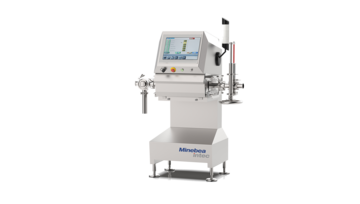 Product details
X-ray inspection system Dypipe
With Dypipe we guarantee you a new level of safety and flexibility in your production process of viscous and liquid products. The system can be equipped with various separators, connections, and mounting options that offer unmatched flexibility, making it the perfect solution for your production line. An innovative sample insertion system ensures specimen validation in live operation. For the high hygienic requirements in meat applications the Dypipe comes with an easy-open separator, specifically designed for this purpose. The X-ray inspection system is made of stainless steel and has a protection class of either IP 65 or IP 69. Several interfaces such as OPC UA, Ethernet IP and the Minebea Intec software for statistical process and pre-packaging control SPC@Enterprise pave the way to increased productivity.
Applications
Foreign body detection

Statistical process control
Product type
X-ray inspection system
Paste-like, viscous or liquid Products
Product Enhancements
The right flexibitily for each application
Arc valve separator in hygienic design

Arc valve (ABV) easy open separator, which is specially designed for meat applications

Multiple interfaces such as OPC UA, Ethernet IP and SPC@Enterprise, pave the way to greater productivity

Product learning mode and individual operating levels offer maximum flexibility and ease of use
Industrial solutions
Our products for your production processes
Our systems and services are oriented towards the requirements of our customers from a wide range of industries. In this way, we ensure that with Minebea Intec you can design your production processes safely and efficiently without having to make compromises. This starts with individual product features and stops only after exceeding global standards.
Pharmaceutical
Food & Beverage
Chemical
Cosmetics
Food & Beverage
Minebea Intec is a leading supplier of weighing and inspection technologies to the food and beverage production industry. Armed with a deep understanding of the challenges food and drink manufacturers face, the company has developed a range of products and solutions that are perfectly tailored to meet their needs in relation to quality and food/drink safety, while also enhancing efficiency and protecting production equipment.
Our solutions for food and beverage industry
Cosmetics
The highly automated processes in cosmetics production require precise measurement results. Minebea Intec offers versatile industrial weighing solutions for a wide range of applications as well as a broad spectrum of dosing, formulation, sorting, filling and packaging solutions.
Our solutions for cosmetics industry
Product finder