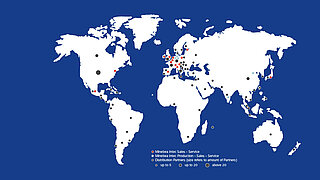 The true measure
Minebea Intec is a leading manufacturer of industrial weighing and inspection technologies. Our mission is to increase the reliability, safety and efficiency of our customers' production processes. To do this, we provide high-quality products, solutions and services that ensure a high level of safety.
Minebea Intec's excellent performance is based on 150 years of experience, our distinct German Quality and continuous investments in the development of innovative technologies. Our strong global presence and an extensive network of distribution partners ensure that our customers can rely on top Minebea Intec quality – any time, anywhere. Our goal is to set strong standards in all areas of our company, which is reflected in our brand slogan, 'the true measure'.
By purchasing Minebea Intec products, every day, customers all over the world are choosing more than just innovative technologies: they are also choosing top-quality service performance and comprehensive support throughout the entire life cycle of their product. Our aim is to fulfil our customers' requirements no matter what the industry, and to be the first port of call for weighing and inspection technologies. In short: the best expert you could have!
Minebea Intec corporate video
Our product and service offers
Weighing and inspection technology to increase reliability, safety and efficiency from a single source.
The product finder helps to find the right solution for your task.
History
Around 150 years of experience in industrial weighing and inspection technology.
Global presence
Minebea Intec locations and partners worldwide.
Via our world-wide presence, we stand beside our customers around the globe and through the whole life cycle of our products and solutions; from assistance with selecting the right equipment, design-in support, installation & calibration, maintenance & repair services, up to implementing equipment upgrades as well as refurbishments and providing user trainings.
Company culture
Our strong company culture together with the quality and attitude of our staff are the basis of our continued success. All of us are proud to be a part of The Minebea Group, are passionate about our work, enjoy it and work professionally together as a team with a global mindset. Flat hierarchies enable us to be flexible and efficient.
The Minebea Intec management team sets a good example as role models, is motivated, shows enthusiasm, has trust in their teams and fosters and promotes them according to their skills and desires.
We develop our people by challenging them, encouraging them to think and act independently and by providing them with professional and personal training opportunities. At the same time, we offer our staff diverse activities that promote a positive work-life balance.
Innovation
We strongly invest in developing Leading Technologies and new products. To ensure that these investments truly support our customers in optimizing the safety, reliability and efficiency of their processes, we encourage and facilitate a company culture of systematic and sustainable creativity and innovation.
At the basis of this culture is our attitude of putting customers at the center of our thinking and acting. Through methods such as Customer Process Monitoring, we obtain a clear understanding of their current and future needs. The process of finding innovative solutions for fulfilling these needs, includes both technical research as well as applying structured creativity. In many phases of this process, we involve internal and external specialists from a variety of disciplines, Partners and customers.
Our well established Quality Management System provides us with the necessary procedures and tools for effectively managing our innovation process and ensuring that we fulfill the requirements regarding time-to-market and return-on-investment.
Product finder