Inspection solutions
VisioPointer®
Stand-alone unit with built-in conveyor & ejector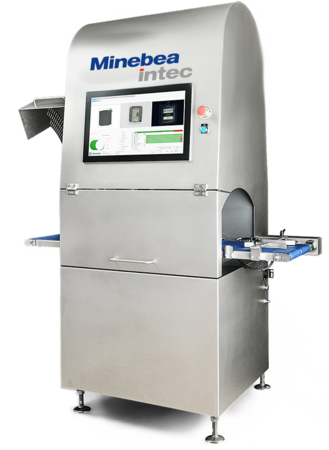 Product details
VisioPointer®
VisioPointer® reliably automates inspection processes in food packaging lines using leading vision technology and multiple inspection types. Its intuitive interface and intelligent data usage allow operators to ensure product quality, reduce waste and downtime, and optimize the production. As a plug and play vision solution, VisioPointer® makes thorough quality control achievable for any food manufacturer with easy implementation, operation and maintenance.
Applications
Foreign body detection

Statistics
Product type
Vision inspection
Top, bottom and side inspection
Product handling
Seal inspection and presence
Label, barcode and print
Material
AISI 316
encap. parts: Stainless steel AISI 304
Product features
Handles unlimited number of product variations
Automated, compact end-of-line inspection
Integrated operator panel with touch screen
Intuitive interface for efficient operation
Cloud-enabled Production Intelligence
ERP connectivity
Central Product Management
Webinar
How to benefit from Foreign Body Detection
What are foreign bodies
Possibilities of foreign object detection
Performance limits of current technologies
Peripherals and monitoring
Industrial solutions
Our products for your production processes
Our systems and services are oriented towards the requirements of our customers from a wide range of industries. In this way, we ensure that with Minebea Intec you can design your production processes safely and efficiently without having to make compromises. This starts with individual product features and stops only after exceeding global standards.
Food & Beverage
Logistics
Cosmetics
Machinery / OEM
Food & Beverage
Minebea Intec is a leading supplier of weighing and inspection technologies to the food and beverage production industry. Armed with a deep understanding of the challenges food and drink manufacturers face, the company has developed a range of products and solutions that are perfectly tailored to meet their needs in relation to quality and food/drink safety, while also enhancing efficiency and protecting production equipment.
Our solutions for food and beverage industry
Logistics
Modern logistics processes require innovative and reliable weighing solutions. Minebea Intec truck scales, industrial scales and specialised checkweigher solutions deliver accurate and traceable results every time - from goods in to despatch.
Our solutions for logistics industry
Cosmetics
The highly automated processes in cosmetics production require precise measurement results. Minebea Intec offers versatile industrial weighing solutions for a wide range of applications as well as a broad spectrum of dosing, formulation, sorting, filling and packaging solutions.
Our solutions for cosmetics industry
Machinery / OEM
Process integrators and machine manufacturers in various industry sectors can benefit from the precision, hygienic design, corrosion resistance and ingress protection offered by Minebea Intec equipment. A wide product range is available.
Our solutions for machinery / OEM
Product finder