Industrial scales
IF
For precise weighing results and simple loading and unloading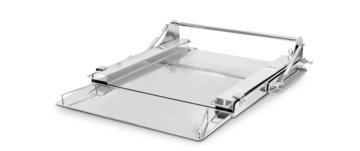 Product details
Flat-bed scale IF
The IF flat-bed scale was developed for use close to the floor in tough industrial environments. It is a high-quality, flexible as well as mobile weighing station and is used in the production process wherever reliable measurement results and hygienic solutions are required. IF floor scales are available in different sizes, versions, weighing ranges and resolutions. Equipped with particularly precise resolution strain gauge weighing systems. Adjustable in their readability as high-resolution (15,000 or 30,000 d) or as legal-for-trade version (1 x 3,000 d/e or 2 x 3,000 d/e). Connectable to the Minebea Intec control units Combics weighing indicators.
Certifications
Applications
Classification

Counting

Fill quantity control

Filling and Dosing

Formulation

Statistical process control

Statistics

Weighing
Product type
Flat-bed scale
floor scale for versatile use
Product handling
Maximum weighing close to the floor
Suitable for almost any industrial environment
Product enhancements
Why a flat-bed scale from Minebea Intec?
Ergonomic design for easy handling
Hygienic Design, e.g. for use in clean rooms
Tough and robust for use with aggressive substances
Easy dry and wet cleaning
Rollers and steering drawbar for mobility
Reliable construction guaranteeing low maintenance costs and a long service life
Standard flat-bed scale IF
Low platform height and very short ramp with minimal incline to save on space. Available with drive-through protection, additional transport handles and rollers, among other options.
Flat-bed scale IF with pneumatic lift mechanism
Ideal for stationary use. For complete cleaning of the scale and floor, the platform is just folded up. Available with a second ramp or as a weighing solution for operation by one person, among other options.
Flat-bed scale IF with rollers
The version with retractable wheels can be pushed by one person, making it ideal for use in a number of different locations and for easy floor cleaning. Available with retractable wheels or steering drawbar and drive through protection, among other options.
You need help configuring your weighing or inspection-solution?
Simply send us your questions or requests via the contact form or give us a call. We will be happy to help you.

Request a consultation
Best Practice
Hygienic container weighing
Minebea Intec's products support the creation of a vaccine against Corona
Key facts
For the research and development of vaccines, every detail has to be critically controlled to ensure the resulting products are exactly what is needed. For the accurate monitoring and controlling of the weight, CanSino chose Minebea Intec to provide the right solutions.
More about the challenge
Challenge
The development and production of vaccines sets the highest standards for the precision of weighing technologies. For this purpose, the devices and systems must be maximally hygienic and easy to clean. The manufacturing processes are complex and time-consuming. In addition to weighing the process containers using load cells and weighing electronics from Minebea Intec, a dosing solution was also required to formulate the final vaccine.
More about the solution
Solution
Vaccines cannot be delivered "pure" to humans, but must be supplemented with adjuvants and stabilisers. This is where a mobile IF floor scale from Minebea Intec comes into play: it offers a very high weighing resolution of up to 30,000 d and additionally favours the process with its high-quality materials, making it ideal for demanding environments. The cleaned raw material is placed in a container on the floor scale, the other ingredients are then added via the scale's recipe function. The low platform height of 35 mm and the integrated drive-on ramp make it easy to move the container onto the scale. Thanks to the integrated lifting mechanism, a single person can lift the platform to perform cleaning without assistance.
More about the client
Customer
Founded in Tianjin, China 2009, CanSino Biologics Inc. is an innovative biopharmaceutical company for human use vaccine R&D, manufacturing and commercialization. It has an R&D centre of approximately 120,000 square-feet as well as a 380,000 square-feet commercial manufacturing campus.
Industrial solutions
Our products for your production processes
Our systems and services are oriented towards the requirements of our customers from a wide range of industries. In this way, we ensure that with Minebea Intec you can design your production processes safely and efficiently without having to make compromises. This starts with individual product features and stops only after exceeding global standards.
Agriculture
Building Materials
Chemical
Cosmetics
Food & Beverage
Machinery / OEM
Pharmaceutical
Confectionery
Agriculture
The processes in the agricultural industry require robust, reliable solutions with safe measurement results. From truck weighing to metal detection, Minebea Intec's extensive range of weighing and foreign body inspection products, both automated and manual, has a high-quality solution for every need.
Our solutions for agriculture industry
Building Materials
For the weighing of building materials, the Minebea Intec portfolio offers the appropriate robustness, durability and IP protection class. Robust dosing, filling and metal detection equipment is also supplied.
Our solutions for the building materials industry
Cosmetics
The highly automated processes in cosmetics production require precise measurement results. Minebea Intec offers versatile industrial weighing solutions for a wide range of applications as well as a broad spectrum of dosing, formulation, sorting, filling and packaging solutions.
Our solutions for cosmetics industry
Food & Beverage
Minebea Intec is a leading supplier of weighing and inspection technologies to the food and beverage production industry. Armed with a deep understanding of the challenges food and drink manufacturers face, the company has developed a range of products and solutions that are perfectly tailored to meet their needs in relation to quality and food/drink safety, while also enhancing efficiency and protecting production equipment.
Our solutions for food and beverage industry
Machinery / OEM
Process integrators and machine manufacturers in various industry sectors can benefit from the precision, hygienic design, corrosion resistance and ingress protection offered by Minebea Intec equipment. A wide product range is available.
Our solutions for machinery / OEM
Confectionery
Whether for weighing products or detecting foreign objects, our technologies ensure reliable processes in the confectionery industry along the production and packaging line. However, product safety and quality are only one side of the coin.
Our solutions for confectionery industry
Mediacenter
Category
File Name
File Size
File Type
Best Practices
Best Practices
Best practice // Ensuring precision and quality for a versatile dosing station with two weighing points
1,34 MB
pdf
Best practice // Minebea Intec's products support the creation of a vaccine against Corona
1,64 MB
pdf
Brochure
Brochure
Brochure // Industrial Bench and Floor Scales
4,86 MB
pdf
Datasheet
Datasheet
Datasheet // Flat-bed scale IF
1,24 MB
pdf
Datasheet // Flat-bed scale IF
1,24 MB
pdf
Manual
Manual
IF, IF 0CE with T8 Lifting Device T8 Upgrade Kit
698 KB
pdf
IF-, IF-0CE with Option T7, T10, T16 Flap Mechanism Drive-through Scale
3,72 MB
pdf
Product finder