Load cells
PR 6202
Hygienic design for vessel and silo weighing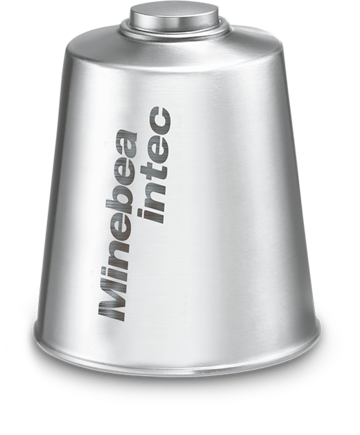 Product features
Compression Load Cell PR 6202
The PR 6202 is the world's first load cell strictly designed in accordance with the hygienic design principles for vessel and silo weighing developed by the European Hygienic Engineering Design Group (EHEDG).
Proven rocker-pin principle
Easy corner adjustment by matched load cell output
Full stainless steel construction
Wide temperature range
High overload capacity
Resistant against vibrations
Hermetically sealed, IP68 (depth of 1.5 m for 10,000 hrs.), IP69K
Ex-version available (PR 6202/..E)
W&M approval (acc. OIML R 60)
Accuracy class: C1 (0,03%) and C3 (0,015%)
Applications
Fill quantity control

Filling and Dosing

Weighing
Certifications
Product details
The PR6202 range of load cells is specially designed to meet the high demands of the food, pharmaceutical and chemical industries. These products are made completely from stainless steel and are specially designed for use with process vessels. All horizontal surfaces are inclined for easy draining, and gaps and undercuts have purposely been avoided. The materials and surface quality were also selected to ensure the load cell meets tried and tested international standards and specifications. Its unique design principle enables it to compensate for motions caused by mechanical/thermal contractions or expansions of containers and/or padding construction in combination with its mounting kit, which has been specially designed for this area of application. For consistent high accuracy.
Why the focus is on hygienic design
In the food production industry, product contamination by microorganisms such as bacteria or fungi presents a potential and omnipotent risk. It is therefore important to prevent any type of contamination and to facilitate its removal. The public's access to multimedia also makes it more sensitive to the importance of hygienic design. This is why more and more facility and machine builders as well as manufacturers of individual components of these face this increasing challenge.
Industrial solutions
Our products for your production processes
Our systems and services are oriented towards the requirements of our customers from a wide range of industries. In this way, we ensure that with Minebea Intec you can design your production processes safely and efficiently without having to make compromises. This starts with individual product features and stops only after exceeding global standards.
Chemical
Cosmetics
Food & Beverage
Pharmaceutical
Cosmetics
The highly automated processes in cosmetics production require precise measurement results. Minebea Intec offers versatile industrial weighing solutions for a wide range of applications as well as a broad spectrum of dosing, formulation, sorting, filling and packaging solutions.
Our solutions for cosmetics industry
Food & Beverage
Minebea Intec is a leading supplier of weighing and inspection technologies to the food and beverage production industry. Armed with a deep understanding of the challenges food and drink manufacturers face, the company has developed a range of products and solutions that are perfectly tailored to meet their needs in relation to quality and food/drink safety, while also enhancing efficiency and protecting production equipment.
Our solutions for food and beverage industry
Product finder