Internship
Theory is best when you put it into practice.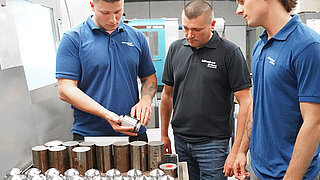 Gaining your first practical experience?
Committed students can get their first taste of practice with us. The possibilities are as varied as our company. Possible areas include purchasing, sales, marketing, finance, production, research and development. You will work on projects and challenging tasks from the very beginning. This way you can test your professional talents and passions. We offer paid internships at our three locations in Hamburg, Bovenden and Aachen.
Minebea Intec offers students many opportunities
You are about to graduate and would like to write your thesis with us? Then we would be happy to support you. You will be assigned a permanent contact person who will give you valuable support. You can also gain your first work experience with us as a student trainee.
We are the right place for you if you are studying business administration, engineering, science or computer science. If you also have an interest in technology and an understanding of business processes in a company, as well as being committed, reliable, independent and a team player, then you will fit in perfectly with us and our corporate values.
What our trainees say
Katrin Sichau - Trainee Sales & Marketing
As a trainee, Minebea Intec gives me the opportunity to get to know all the areas of responsibility in the marketing and sales departments and to work on projects independently. During the two-year programme, I not only get to know the Hamburg location, but also the locations in Bovenden, Aachen and a location abroad.

When planning the assignments of varying lengths in the different departments, it is very welcome that I bring in my own wishes and experiences. I am now in my first six months of the programme and my first project - a market research for the sales department - is already being turned into a business development project. This clearly shows how much the company values new ideas and the opinions of young colleagues.

In general, you are very warmly received here as a newbie. A detailed onboarding plan helped me to quickly find my way around and understand the company structure. Basically, there is a very pleasant working atmosphere here. Questions are welcome and are answered in detail. The flexible flexitime system with the option of working from home leads to a pleasant work-life balance.
Lena Sander - Internship in the Human Resources Department
At the end of my bachelor's degree in business administration, I completed a three-month internship in the human resources department at Minebea Intec. During the internship I was able to gain valuable practical experience that complemented my studies. In the course of the internship, I gained diverse insights into the tasks of the human resources department. In addition to administrative tasks, I got to know the applicant management process and the legal framework. My tasks also included welcoming new employees.

I particularly enjoyed working on specifically defined projects. On the one hand, I supported my colleagues in implementing the application management software in French. On the other, I was involved in planning the redesign of the company's career site. I was able to contribute my own ideas and suggestions and actively contribute to the redesign.

In addition to my assignment in the HR department, I was given insights into other departments such as purchasing, order entry and product management on a daily basis. I also had the opportunity to get to know another Minebea Intec sites. The three months were therefore extremely varied and versatile - my expectations of this internship were more than fulfilled.
Your benefits at Minebea Intec
We offer many benefits - from flexible working time models and attractive special benefits to individual further development.
Apply!
If you are looking for new professional challenges, valuable practical experience or a promising start to your career - Minebea Intec is the right place for you.
Product finder