Meet us digitally in person!
Personal consultation even from a distance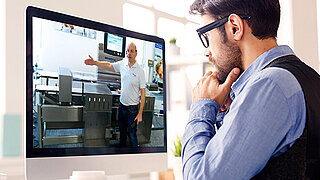 In an increasingly digital world, we want to continue to be at your side as a competent contact partner. To this end, we are continuously developing digital formats that directly support you and help you to get a realistic and fully comprehensive impression of our products and solutions. Many roads lead to Minebea Intec - we look forward to meeting you!
How we can support you
Live demonstrations
Our Virtual Showrooms offer real-time online product demonstrations. Just make an appointment and tell us what you are looking for.
Compact webinars
Join our free, digital webinars to get deep insights and practical information around our weighing and inspection technologies.
Instant support
Our Service tool miRemote is based on Augmented Reality Technology and offers remote service whenever needed. Just use your smartphone and we are with you.
Virtual Showrooms
We have set up virtual showrooms, allowing real-time product demonstrations by a Minebea Intec sales or application specialist in a virtual 1 to 1 situation. All you need is a laptop, a smartphone or a tablet.
Book your presentation now – we are here for you!
Our Webinar offering
Learning never stops, and knowledge is key in our high-tech world. Our free, digital compact webinars will give you a deeper understanding of core topics around our weighing and inspection technologies as well as service and software solutions.
Become an expert and recharge your knowledge of weighing and inspection!
Service tool miRemote
Utilizing this tool we bridge the gap between preventive service measures and corrective repair. Using a smartphone or tablet, the respective service case is analysed in real time, qualified and, if necessary, immediately supported. In doing so, national borders and time zones are crossed effortlessly. Central benefits are therefore: No travel expenses, no visa costs, no time delay.
Count on us to secure your operations.
Product finder