X-ray inspection system
Dymond
For reliable inline inspection of packaged food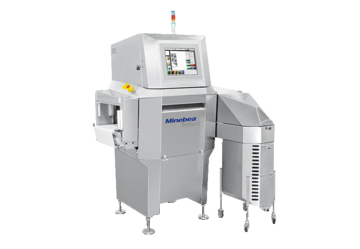 Product details
X-ray inspection system Dymond
The innovative X-ray inspection system Dymond reliably detects foreign objects, including in desserts, salad mixes or ready-made meals. At the same time, Dymond helps to check important quality attributes, such as mass, filling levels, completeness and integrity.

Featuring 3 models it is able to cover the majority of applications for inspecting packaged products.
Applications
Fill quantity control

Foreign body detection

Statistical process control

Statistics
Product type
X-ray inspection system
Topshooter
for packaged products
Products handling
Foreign object detection
level control
Product enhancements
What size for my product?
Dymond 40, 80, 120, 160

The Dymond series sets a standard in X-ray inspection for food with crystal-clear X-ray images, a high degree of accuracy and low energy costs – all available in four different machine sizes. Simply choose the right solution for your products.

Read more
You need help configuring your weighing or inspection-solution?
Simply send us your questions or requests via the contact form or give us a call. We will be happy to help you.

Request a consultation
Best Practice
Double check product quality
An X-ray inspection system from Minebea Intec tackles even the most complex requirements in yoghurt production
Key facts
The two-chamber tubs are filled with yoghurt and cereal mixtures via a multi-filling system. However, time and again, this causes unwanted clumps of cereal residue to form
More about the challenge
Challenge
When filling two-chamber tubs with yoghurt and various cereals, time and again there were unwanted, uncontrollable deposits of substandard product residues. The manufacturer pinpointed the problem to the filling process and to the particular properties of the products. The cereals naturally have a low fat content, which results in the cereal dust adhering to the walls of the filling system chamber. This then clumps and can fall into one of the tubs at any time. The tubs are sealed with an aluminium foil lid straight after filling, so a visual quality control check is out of the question.
More about the solution
Solution
Due to the fact that the two-chamber tubs were sealed with aluminium foil, an X-ray inspection system Dymond from Minebea Intec was already integrated into the packaging line at the detection point for foreign objects. The sales team sought the advice of Minebea Intec's X-ray technology experts and together they developed a solution – with help from the x-ray inspection system. The advanced Dymond system doesn't just detect a wide variety of foreign objects, such as glass, stone or metal, but it can also recognise deviations in a product's consistency. Together, the system's settings were successfully modified. Since then, the system has reliably removed not only contaminated products from the product flow but also substandard products.
More about the client
Customer
The customer is a well-known dairy product manufacturer based in Germany. The company has a diverse product range and is known throughout the whole of Europe. Be it cheese, ice cream or yoghurt, this manufacturer delivers delicious products of the highest standard.
Get the most out of your X-ray inspection
Ever since Wilhelm Conrad Röntgen discovered the 'invisible rays' on 8 November 1895, X-ray diagnostics has become an establis-hed practice in many fields. Today, X-rays are not only used for medical purposes, but also support the food industry in its aims to ensure food quality and safety.
Industrial solutions
Our products for your production processes
Our systems and services are oriented towards the requirements of our customers from a wide range of industries. In this way, we ensure that with Minebea Intec you can design your production processes safely and efficiently without having to make compromises. This starts with individual product features and stops only after exceeding global standards.
Chemical
Cosmetics
Food & Beverage
Pharmaceutical
Dairy
Cosmetics
The highly automated processes in cosmetics production require precise measurement results. Minebea Intec offers versatile industrial weighing solutions for a wide range of applications as well as a broad spectrum of dosing, formulation, sorting, filling and packaging solutions.
Our solutions for cosmetics industry
Food & Beverage
Minebea Intec is a leading supplier of weighing and inspection technologies to the food and beverage production industry. Armed with a deep understanding of the challenges food and drink manufacturers face, the company has developed a range of products and solutions that are perfectly tailored to meet their needs in relation to quality and food/drink safety, while also enhancing efficiency and protecting production equipment.
Our solutions for food and beverage industry
Product finder