Academy –
our training center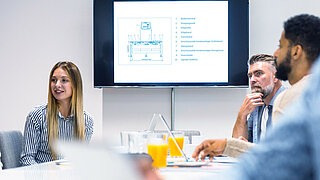 Academy is Minebea Intec′s own branded training scheme. It offers customers a range of services that includes training on daily operations, training on how to repair Minebea Intec equipment as well as seminars and webinars on technology, product evolution and local regulations.
User training sessions
User training sessions help to get the most out of the investment and to avoid poor operation, unnecessary downtime and repair costs. The sessions are conducted by experienced professionals, either on our customers' premises or at one of the Minebea Intec Academy training centres. All participants receive a certificate upon completion.
There are three levels available for metal detector, X-ray inspection equipmentand checkweigher training sessions.
Basic Training
Operator Training
Maintenance Training
Overview trainings
Basic Training – objectives
Obtaining a comprehensive understanding of the technology used and its possibilities and limitations
Understanding the environmental factors that have an influence on the correct functioning of the equipment
Learning how to operate and clean the machine in an effective and safe way
Operator Training – objectives
The Operator Training provides information on the following, in addition to the content provided in the Basic Training sessions:
Starting up the the equipment
Setting up the equipment for a specific product
Performing function tests and validations
Maintenance Training – objectives
In addition to the content provided in the Operator Training sessions, the participants also receive information on how to plan and perform regular preventive maintenance. The advantages are:
Maximised production performance
Reduction of downtimes
Reduction of diagnose faults
Video Tutorials
We offer a variety of useful videos on our YouTube channel. Available titles include for example:
How to calibrate your process vessel scale in less than 5 minutes
Success factors for an accurate process vessel scale
X-ray inspection system Dylight – quick and tool-less belt change
Product finder