Inspection solutions
Vistus®Freefall
Your first choice for quality management: Vistus and True In-Process Validation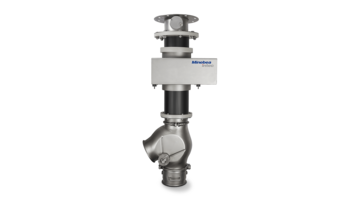 Product features
Freefall metal detection system Vistus
The freefall metal detection system Vistus ensures the reliable inspection and removal of metallic foreign bodies from any kind of food products in powder or granule form that is transported with the use of gravity through a pipe, e.g. milk powder, wheat, nuts or cornflakes.
Minimum installation height for easy integration into any application
True In-Process Validation. This functionality guarantees correct performance testing
Cost effective control of up to four search coils via one terminal
Perfect your metal detection system; choose the right components to suit your needs for your remote terminal using the modular principle for customisation with search coil, pipe, separator and, optionally, True In-Process Validation.
All components of the entire system can be used in zone 22 potentially explosive environments as per the provisions of Directive 94/9/EC.
Product video Freefall Metal Detection System Vistus®
Applications
Fill quantity control

Filling and Dosing

Weighing
Certifications
Vistus metal detection technology
Maximum detection sensitivity
Multi-frequency technology
Reliable detection
True In-Process Validation
Correct performance validation
In the centre of the product flow
Validate Ddring operation
Individual configuration
Quality pipes certified to food standards
Efficient separation systems
Minimal installation height
Product details
| | |
| --- | --- |
| Protection Rating | IP65 (IP69K optional) |
| Explosion Protection | Approved for II 1/3D c T120" -5°C <- Ta <-+40°C |
| User Interface | 145 mm (5.7") touchscreen |
| Relay Outputs | Total of 4 relays - relays 1, 3 and 4 freely programmable |
| Relative air humidity | Operation:< 58% at +55°C / Storage:< 30% at +70°C, 0% to 90% condensation-free |
| Ambient Temperature | Operation: -10°C to +55°C |
| Product Temperature | -30 to +55°C, up to +150°C with air cooling |
| Data interfaces | TCP l IP-, RS232-, RS422-, CAN bus, field bus and Profibus |
| Network Connection | Ethernet |
Increase your expertise in foreign object detection
Preventive measures and foreign object management have become increasingly important in the food industry. One reason for this can be found in the changing requirements of food standards. Another reason is the public's increased sensitivity to contaminated and defective products. In the age of the media, product recalls can mean much more than economic losses: in the worst case, they damage the image of the entire company.
Industrial solutions
Our products for your production processes
Our systems and services are oriented towards the requirements of our customers from a wide range of industries. In this way, we ensure that with Minebea Intec you can design your production processes safely and efficiently without having to make compromises. This starts with individual product features and stops only after exceeding global standards.
Food & Beverage
Pharmaceutical
Chemical
Agriculture
Cosmetics
Building Materials
Machinery / OEM
Food & Beverage
Minebea Intec is a leading supplier of weighing and inspection technologies to the food and beverage production industry. Armed with a deep understanding of the challenges food and drink manufacturers face, the company has developed a range of products and solutions that are perfectly tailored to meet their needs in relation to quality and food/drink safety, while also enhancing efficiency and protecting production equipment.
Our solutions for food and beverage industry
Agriculture
The processes in the agricultural industry require robust, reliable solutions with safe measurement results. From truck weighing to metal detection, Minebea Intec's extensive range of weighing and foreign body inspection products, both automated and manual, has a high-quality solution for every need.
Our solutions for agriculture industry
Cosmetics
The highly automated processes in cosmetics production require precise measurement results. Minebea Intec offers versatile industrial weighing solutions for a wide range of applications as well as a broad spectrum of dosing, formulation, sorting, filling and packaging solutions.
Our solutions for cosmetics industry
Building Materials
For the weighing of building materials, the Minebea Intec portfolio offers the appropriate robustness, durability and IP protection class. Robust dosing, filling and metal detection equipment is also supplied.
Our solutions for the building materials industry
Machinery / OEM
Process integrators and machine manufacturers in various industry sectors can benefit from the precision, hygienic design, corrosion resistance and ingress protection offered by Minebea Intec equipment. A wide product range is available.
Our solutions for machinery / OEM
Mediacenter
Category
File Name
File Size
File Type
Best Practices
Best Practices
Best Practice // Servicing with no borders: full set-up of a metal detection system using AR technology
1,35 MB
pdf
Best practice // Latest generation of metal detection coils impresses leading automotive supplier
619 KB
pdf
Best practice // Latest generation of metal detection coils impresses leading automotive supplier
619 KB
pdf
Best Practice // Compact, flexible and reliable: metal detector allows chocolate treats to be enjoyed safely
875 KB
pdf
Best Practice // Vistus brings better sensitivity and space-saving metal detection solution for dried and fresh fruits
1,68 MB
pdf
Best Practice // Minebea Intec enables reliable metal detection under harsh and changing conditions
1,20 MB
pdf
Best Practice // How Minebea Intec's metal detection saved the day for a biscuit producer
882 KB
pdf
Best Practice // High-precision metal detection for salad dressings: MiWave technology reduces erroneous readings
675 KB
pdf
Brochure
Brochure
Brochure // Industrial Metal Detectors
4,69 MB
pdf
Video
Video
Freefall Metal Detection System Vistus®
11 B
youtube
Datasheet
Datasheet
Datasheet // Freefall metal detection system Vistus® with separator EC
1,50 MB
pdf
Datasheet // Freefall metal detection system Vistus® with separator FL
1,48 MB
pdf
Datasheet // Freefall metal detection system Vistus® with separator ST 2.0
1,49 MB
pdf
Datasheet // Freefall metal detection system Vistus® with separator SW
2,14 MB
pdf
Datasheet // Freefall metal detection system Vistus® VPU
1,19 MB
pdf
Datasheet // Metal Detector Secus®
2,74 MB
pdf
Datasheet // Metal detector belt BMG 5.2 and BMG 8.2
978 KB
pdf
Datasheet // Metal detector belt BMK 4
959 KB
pdf
Datasheet // Metal detector belt BMK 16
960 KB
pdf
Datasheet // Testing equipment for foreign body detection validation
1,22 MB
pdf
Datasheet // Metal detection system Vistus®
1,65 MB
pdf
Datasheet // Freefall metal detection system Vistus® RS
1,44 MB
pdf
Datasheet // Metal detector Vistus® Pipeline.
2,77 MB
pdf
Datasheet // Metal detector Mitus®
2,76 MB
pdf
Product finder