Load cells
INTECO®
Analogue or digital - the flexible weighing solution for silo and container weighing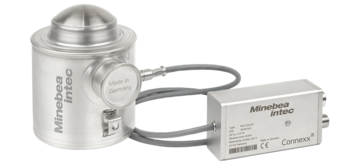 Product details Compression load cell Inteco®
The load cell Inteco® represents a consistent enhancement to the well-known PR 6201. With an output signal of 2 mV/V, additional load levels of up to 75 t, higher accuracy classes (C6) and high-quality stainless steel, it has a wider range of potential applications. Accuracy classes D1 (0.04%), C3 (0.015%) and C6 (0.008%). As a digital weighing solution with the converter Connexx®, the load cell Inteco offers fast signalling times and optimal transparency in dosing and weighing processes. The Minebea Intec mounting kits FLEXLOCK minimise the effect of movements on the weighing result at the same time.
Product video load cell Inteco®
Certifications
ATEX

EAC

FM

IEC-EX

NTEP

OIML
Applications
Fill quantity control

Filling and Dosing

Weighing
Product handling
Use analogue and digital
installation kits and accessories identical to PR 6201
Product Enhancements
Digital Solution for Inteco
Fitted with the converter Connexx®, the load cell Inteco® offers a whole host of possibilities:
The digital version guarantees fast signalling times for reliable dosing processes.
Thanks to the use of field bus communication, the cable junction box is no longer needed.
The standard interface CANopen ensures straightforward installation and calibration.
CANopen allows for extra-long communication paths of up to 200 m.
Weight values can also be generated individually – per load cell – meaning that defective load cells can be identified more easily.
You need help configuring your weighing or inspection-solution?
Simply send us your questions or requests via the contact form or give us a call. We will be happy to help you.

Request a consultation
Best Practice
Weighing in a hazardous area
Acrylic manufacturer choose Inteco load cells for performance, accuracy and efficiency
Key facts
Perspex International manufacture acrylic sheet products which have endless applications across a multitude of industries. Accurate dosing is a crucial part of the production process.
More about the challenge
Challenge
When Perspex International started to experience problems with their 25 year old Minebea Intec PR 6201 load cell, they knew it was time to replace like for like. Their issues began with a software fault when the vessel was placed under full vac, as the system would read a negative weight resulting in a system lockdown.
More about the solution
Solution
The replacement of the predecessor PR 6201 with the new Inteco load cell went smoothly: accessories and installation kits could be adopted as far as possible. The performance and accuracy of Minebea Intec load cells lead to higher production efficiency.
High accuracy class (C6)
Corrosion-resistant stainless steel
Analogue output signal 2 mV/V
The customer opted for service support for the set-up and commissioning of the weighing system, as the necessary expertise for effective execution was not available on site.
More about the customer
Customer
Perspex International is one of the World's leading producers of acrylic sheet products. PERSPEX® acrylic was invented in the early 1930s. Today, Perspex International has excellent research, development and manufacturing facilities based in the UK, partnered with a reliable distribution network that covers the globe.
Industrial solutions
Our products for your production processes
Our systems and services are oriented towards the requirements of our customers from a wide range of industries. In this way, we ensure that with Minebea Intec you can design your production processes safely and efficiently without having to make compromises. This starts with individual product features and stops only after exceeding global standards.
Chemical
Cosmetics
Food & Beverage
Machinery / OEM
Pharmaceutical
Confectionery
Plastics
Dairy
Logistics
Agriculture
Building Materials
Cosmetics
The highly automated processes in cosmetics production require precise measurement results. Minebea Intec offers versatile industrial weighing solutions for a wide range of applications as well as a broad spectrum of dosing, formulation, sorting, filling and packaging solutions.
Our solutions for cosmetics industry
Food & Beverage
Minebea Intec is a leading supplier of weighing and inspection technologies to the food and beverage production industry. Armed with a deep understanding of the challenges food and drink manufacturers face, the company has developed a range of products and solutions that are perfectly tailored to meet their needs in relation to quality and food/drink safety, while also enhancing efficiency and protecting production equipment.
Our solutions for food and beverage industry
Machinery / OEM
Process integrators and machine manufacturers in various industry sectors can benefit from the precision, hygienic design, corrosion resistance and ingress protection offered by Minebea Intec equipment. A wide product range is available.
Our solutions for machinery / OEM
Confectionery
Whether for weighing products or detecting foreign objects, our technologies ensure reliable processes in the confectionery industry along the production and packaging line. However, product safety and quality are only one side of the coin.
Our solutions for confectionery industry
Logistics
Modern logistics processes require innovative and reliable weighing solutions. Minebea Intec truck scales, industrial scales and specialised checkweigher solutions deliver accurate and traceable results every time - from goods in to despatch.
Our solutions for logistics industry
Agriculture
The processes in the agricultural industry require robust, reliable solutions with safe measurement results. From truck weighing to metal detection, Minebea Intec's extensive range of weighing and foreign body inspection products, both automated and manual, has a high-quality solution for every need.
Our solutions for agriculture industry
Building Materials
For the weighing of building materials, the Minebea Intec portfolio offers the appropriate robustness, durability and IP protection class. Robust dosing, filling and metal detection equipment is also supplied.
Our solutions for the building materials industry
Product finder