Inspection solutions
MITUS® FREE-FALL
Highest detection sensitivity for your free-fall applications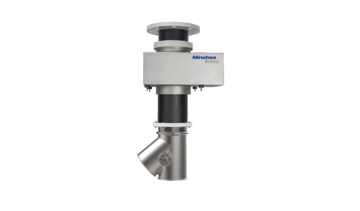 Product details
Mitus® free-fall metal detector
The Mitus® free-fall metal detection system guarantees the reliable inspection and removal of metallic foreign objects from food products of all kinds in powder or granular form that are transported through a pipe by gravity. These include, for example, powdered milk, wheat, nuts or cornflakes. Thanks to the innovative MiWave technology, the highest detection sensitivities can be achieved even with high product effects.
Minimal installation height for easy integration into all kinds of applications
True-in process validation guarantees correct performance testing
Cost-effective control of up to four search coils via one terminal
This is how you perfect your metal detection: select the appropriate components for your operating terminal according to the modular principle - consisting of search coil, tube, separator and optionally the True-In process validation.
All components of the complete system can be used in Zone 22 hazardous areas in accordance with the provisions of Directive 94/9/EC.
Certifications
Applications
Filling and Dosing

Foreign body detection

Weighing
Product type
Metal detector
Products in free-falling applications
IP protection class of the search coil
Product Enhancements
The right flexibility for every application
Thanks to the modular design of the free-fall systems, customer-specific requirements can be optimally covered:
adaptable conveying diameters
minimum installation height
abrasive product behaviour
frequent cleaning processes
multiple interfaces such as OPC UA, Ethernet IP and SPC@Enterprise pave the way to greater productivity
explosive atmosphere (ATEX).
How-to Guide
How you can choose the right metal detection technology
What kind of foreign objects does the metal detection detect?
Which factors influence the detection result?
What are the advantages of the innovative MiWave technology?
Industrial solutions
Our products for your production processes
Our systems and services are oriented towards the requirements of our customers from a wide range of industries. In this way, we ensure that with Minebea Intec you can design your production processes safely and efficiently without having to make compromises. This starts with individual product features and stops only after exceeding global standards.
Cosmetics
Chemical
Food & Beverage
Pharmaceutical
Cosmetics
The highly automated processes in cosmetics production require precise measurement results. Minebea Intec offers versatile industrial weighing solutions for a wide range of applications as well as a broad spectrum of dosing, formulation, sorting, filling and packaging solutions.
Our solutions for cosmetics industry
Food & Beverage
Minebea Intec is a leading supplier of weighing and inspection technologies to the food and beverage production industry. Armed with a deep understanding of the challenges food and drink manufacturers face, the company has developed a range of products and solutions that are perfectly tailored to meet their needs in relation to quality and food/drink safety, while also enhancing efficiency and protecting production equipment.
Our solutions for food and beverage industry
Product finder