Inspection solutions
MITUS® Pipeline
Metal detection technology for viscous and liquid food products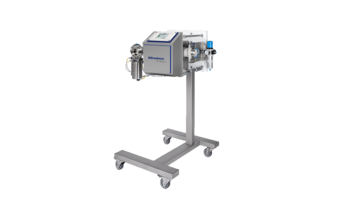 Product details
Mitus® Pipeline metal detector
The Mitus® Pipeline metal detector is equipped with innovative MiWave technology to ensure maximum product sensitivity. It features an intuitive touchscreen display and optional interfaces for monitoring and control, as well as a wide range of mechanical connections tailored to your application.
All Mitus® Series metal detectors are based on high-quality components and a wide frequency spectrum for maximum detection performance and reliability. Dialogues tailored to different user groups ensure maximum user-friendliness and thus enable intuitive operation. A wide range of variants and dimensions are available for individual requirements and applications, enabling precise integration into the production line. Of course, we also offer customised solutions on request.
There are numerous applications in the food industry for consumer protection. The aim is to ensure that the products leave the production free of metal contamination.
IP protection class of search coil
Product Enhancements
The right flexibility for every application
Elbow valve separator in hygienic design
Multiple interfaces such as OPC UA, Ethernet IP and SPC@Enterprise pave the way to greater productivity
Easy-to-open arc valve separator (ABV) specifically designed for meat applications.
Product learning mode and individual operating levels provide maximum flexibility and ease of use.
How-to Guide
How you can choose the right metal detection technology
What kind of foreign objects does the metal detection detect?
Which factors influence the detection result?
What are the advantages of the innovative MiWave technology?
Industrial solutions
Our products for your production processes
Our systems and services are oriented towards the requirements of our customers from a wide range of industries. In this way, we ensure that with Minebea Intec you can design your production processes safely and efficiently without having to make compromises. This starts with individual product features and stops only after exceeding global standards.
Cosmetics
Chemical
Food & Beverage
Pharmaceutical
Cosmetics
The highly automated processes in cosmetics production require precise measurement results. Minebea Intec offers versatile industrial weighing solutions for a wide range of applications as well as a broad spectrum of dosing, formulation, sorting, filling and packaging solutions.
Our solutions for cosmetics industry
Food & Beverage
Minebea Intec is a leading supplier of weighing and inspection technologies to the food and beverage production industry. Armed with a deep understanding of the challenges food and drink manufacturers face, the company has developed a range of products and solutions that are perfectly tailored to meet their needs in relation to quality and food/drink safety, while also enhancing efficiency and protecting production equipment.
Our solutions for food and beverage industry
Product finder