Inspection solutions
Vistus®
For maximum detection performance and reliability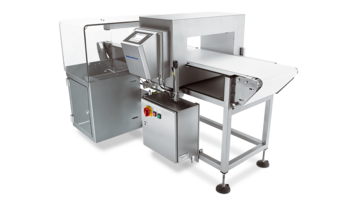 Product details Metal Detector Vistus®
All Vistus® series detectors are manufactured using high-quality componants. They have a wide frequency range for the ultimate in detection performance and reliability. Dialogues tailored to different user groups ensure optimum user friendliness. For individual requirements and applications, there are a range of variants and dimensions available. For example, Vistus metal detection technology also provides outstanding detection results in our Vistus Pipeline, Vistus RS and Vistus Freefall products.
Certifications
Applications
Foreign body detection

Statistical process control
Product type
Metal detection
metal detection coil
Product handling
Foreign object detection
especially for packaged products
Material
Housing 1.4301 stainless steel
Increase your expertise in foreign object detection
Preventive measures and foreign object management have become increasingly important in the food industry. One reason for this can be found in the changing requirements of food standards. Another reason is the public's increased sensitivity to contaminated and defective products. In the age of the media, product recalls can mean much more than economic losses: in the worst case, they damage the image of the entire company.
Industrial solutions
Our products for your production processes
Our systems and services are oriented towards the requirements of our customers from a wide range of industries. In this way, we ensure that with Minebea Intec you can design your production processes safely and efficiently without having to make compromises. This starts with individual product features and stops only after exceeding global standards.
Agriculture
Building Materials
Chemical
Cosmetics
Food & Beverage
Machinery / OEM
Pharmaceutical
Confectionery
Agriculture
The processes in the agricultural industry require robust, reliable solutions with safe measurement results. From truck weighing to metal detection, Minebea Intec's extensive range of weighing and foreign body inspection products, both automated and manual, has a high-quality solution for every need.
Our solutions for agriculture industry
Building Materials
For the weighing of building materials, the Minebea Intec portfolio offers the appropriate robustness, durability and IP protection class. Robust dosing, filling and metal detection equipment is also supplied.
Our solutions for the building materials industry
Cosmetics
The highly automated processes in cosmetics production require precise measurement results. Minebea Intec offers versatile industrial weighing solutions for a wide range of applications as well as a broad spectrum of dosing, formulation, sorting, filling and packaging solutions.
Our solutions for cosmetics industry
Food & Beverage
Minebea Intec is a leading supplier of weighing and inspection technologies to the food and beverage production industry. Armed with a deep understanding of the challenges food and drink manufacturers face, the company has developed a range of products and solutions that are perfectly tailored to meet their needs in relation to quality and food/drink safety, while also enhancing efficiency and protecting production equipment.
Our solutions for food and beverage industry
Machinery / OEM
Process integrators and machine manufacturers in various industry sectors can benefit from the precision, hygienic design, corrosion resistance and ingress protection offered by Minebea Intec equipment. A wide product range is available.
Our solutions for machinery / OEM
Confectionery
Whether for weighing products or detecting foreign objects, our technologies ensure reliable processes in the confectionery industry along the production and packaging line. However, product safety and quality are only one side of the coin.
Our solutions for confectionery industry
Product finder