Software
ProRecipe XT®
The intuitive recipe management system for all manual and automatic recipe processes.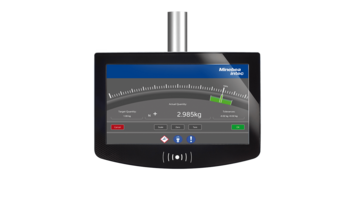 Product details ProRecipe XT®
Thanks to ProRecipe XT®, operating errors and time-consuming data input are consigned to the history books. Its intuitive user interface ensures processes are safe, guiding the operator through each step of the formulation process. ProRecipe XT® has been optimised for touchscreens and can be controlled either from a Windows® PC or from a Maxxis 5 process controller, ensuring the best possible integration into your production processes. High level of flexibility: ProRecipe XT® can also be controlled using Microsoft® tablets, guaranteeing an unprecedented level of safety for recipes and maximum efficiency.
Product video ProRecipe XT® recipe management system
Certifications
Applications
Filling and Dosing

Weighing
Specifications
Safe and intuitive operating concept
Data input via barcode reader
Optimised for touchscreen operation
Little training required
Flexible integration into your production operations
Scalable software architecture
Versatile interfaces
Individual project solutions
Traceability guaranteed
Continuous documentation of batches
Comprehensive report functions
Recipe versioning with history
Product enhancements
Flexible process integration
The ProRecipe XT® recipe management system can be integrated into your production operations in a number of different ways. The variety of ultramodern data interfaces and the modular set-up ensure minimum hassle for you here: Tailored to your individual requirements, purchase ProRecipe XT® and you will receive a system that has a lasting effect on your production operations. Benefit from the greater cost-effectiveness brought by automated processes, plus fewer sources of mistakes, as you make the most of the advantages of this recipe management system in your process.
Scalable software architecture
Modular set-up
Can be adjusted to suit your specific software architecture requirements
Possible to equip spatially extended areas with a large number of weighing cabins
Versatile interfaces mean simple integration
Individual connection to your ERP or MES system
Secure process monitoring and efficient warehouse management avoid the need for data entry twice
Easy to integrate new balances, dosing systems, etc.
Individual project solutions
Project solutions specific to your exact needs and requirements
ProRecipe XT® can be adapted to suit the purpose of your production operations
Blends perfectly into your processes
How do you optimize your process control?
Statistical process control is an essential component of many quality management systems. Inspection points at relevant process steps and in meaningful chronological order result in important key figures for process optimization and support you in
Guarantee of consistent product quality
Increase of economic efficiency
Documentation of product quality as evidence of compliance with regulations
Error prevention through early intervention in the process
Industrial solutions
Our products for your production processes
Our systems and services are oriented towards the requirements of our customers from a wide range of industries. In this way, we ensure that with Minebea Intec you can design your production processes safely and efficiently without having to make compromises. This starts with individual product features and stops only after exceeding global standards.
Food & Beverage
Pharmaceutical
Chemical
Cosmetics
Food & Beverage
Minebea Intec is a leading supplier of weighing and inspection technologies to the food and beverage production industry. Armed with a deep understanding of the challenges food and drink manufacturers face, the company has developed a range of products and solutions that are perfectly tailored to meet their needs in relation to quality and food/drink safety, while also enhancing efficiency and protecting production equipment.
Our solutions for food and beverage industry
Cosmetics
The highly automated processes in cosmetics production require precise measurement results. Minebea Intec offers versatile industrial weighing solutions for a wide range of applications as well as a broad spectrum of dosing, formulation, sorting, filling and packaging solutions.
Our solutions for cosmetics industry
Product finder