Industrial scales
MAXXIS 5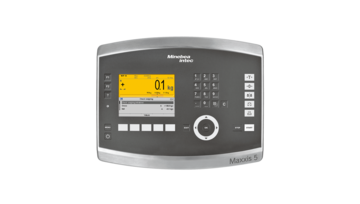 Product details
Weight controller Maxxis 5
The innovative weight controller Maxxis 5 is suitable for the most diverse of applications – from multi-component dosing to one-component filling and counting right up to vehicle weighing. Versatile interface options make it compatible with almost any weighing solution – either programmed individually or supported by customised software applications.

Minebea Intec's expert team of software engineers, in conjunction with industry specialists, have created software solutions that allow the unit to seamlessly integrate into any process. However, users who require it can utilise the easy to use IEC61131 programming language to implement their own unique functionalities.
Certifications
ATEX

EAC

FM

IEC-EX

NTEP

OIML
Applications
Fill quantity control

Filling and Dosing

Formulation

Weighing
Product type
Weighing controller
weighing electronics
Product handling
Use as table-top unit or for control cabinet mounting
Connection of up to four scales possible
IP protection class
Cabinet housing: IP65, rear panel IP 20
Blackbox housing: IP20
Table-top housing: IP65
Wall housing: IP65
Product enhancements
Weighing
Gross, net, tare
Printing, Alibi memory, dialogue
Checkweighing
Easy +/0/- functions
Easy product databases
Check with preset tare/tare or gross mode
Terminal function
Connection to superordinate systems (PLC, PC etc.)
Display of texts and dialogues
Operation of PC or PLC application via weight controller
Independent dosing device:
Formulation-based multi-component dosing control
Control of up to four scales (2× analogue + 2× digital)
Manual and/or automatic multi-component dosing according to setpoint setting
Integrated PLC for the control of analogue and digital inputs and outputs
Comprehensive reporting for seamless documentation of the dosing results and traceability
Remote control via field bus, OPC or Modbus TCP (incl. selection of formulation, setpoint setting, start, stop, etc.)
Configuration of the process flow with formulation components, formulations and orders
Different types of material for control of additional stages in the process such as stirring and heating using digital inputs and outputs
Adjustable dosing tolerance and overrun, and values for rough and fine signals
Incl. automatic readjustment of overrun and setpoint recalculation Storage vessel
Counting:
Input of reference unit weight
Automatic unit weight optimisation
Adjustable accuracy of the unit weight calculation
Automatic tare
Product data memory
Counting with multiple scales (reference weight scale)
Checking/totalling:
Input of the target weight and tolerances
Support by bar graph
Product data memory
Automatic result printout
Totalling of each product
Automatic or manual value acceptance
Initial weighing and second weighing
Database for vehicles, products, customers, carriers
Loading function with target value, tolerance and overrun correction
Printout of the weighing ticket
Saving of the recorded gross value in the Alibi memory (licence required)
Tandem scale possible
IBC - for single-component filling tasks
ProRecipe XT® - for manual formulation and dispensing tasks
Versatile interface options
Ethernet TCP/IP, ModBus TCP, Profibus DP, DeviceNet, ProfiNet, Ethernet/IP and USB
You need help configuring your weighing or inspection-solution?
Simply send us your questions or requests via the contact form or give us a call. We will be happy to help you.

Request a consultation
Best Practice
Get a first impression here
Tandem scale for dosing application
Ensuring precision and quality for a versatile dosing station with two weighing points
Key facts
To meet the wide range of customer requirements and applications, MIXACO were exploring ways to provide an all-in-one station solution which can be used for both dosing smaller amounts of ingredients and weighing the corresponding mixing tank.
More about the challenge
Challenge
For the high, multi-layered requirements of its customers, the globally leading mixing technology provider MIXACO offers high-quality, functional solutions. MIXACO customers come from a variety of industries, such as the chemical, pharmaceutical, plastics and paint industries. Particularly in the paint or chemical industry, dust can be a real problem: A dust-free application is a parameter for precise weighing results.
More about the solution
Solution
The top stage of the dosing station features a high-resolution bench scale (e.g. Combics). This industrial weighing solution ensures safe dosing of smaller amounts of ingredients which can be filled directly into the mixing tank underneath. To ensure that all ingredients listed in the recipe are provided in just the right quantity, the bottom stage of the dosing unit has a 1,000 kg IF series floor scale which has a particularly low platform, enabling easy positioning and weighing of mixing tanks.

Both platforms are connected to the weight controller Maxxis 5. In addition to ensuring precise weight display in both weighing ranges, the weight controller uses bespoke software applications to facilitate multi-component dosing and allows for connection to master systems.
More about the client
Customer
MIXACO have been recognised as a leader in innovation in mixing technology for over 50 years. The company stands for high-end components, sturdy design and top-notch build quality - Made in Germany. Their broad range of products spans from container agitators through heating/cooling mixers for compounding to novel horizontal agitator systems. Their 35 offices and over 6,000 successfully installed units worldwide make MIXACO a global player in industrial mixing technology.

Industrial solutions
Our products for your production processes
Our systems and services are oriented towards the requirements of our customers from a wide range of industries. In this way, we ensure that with Minebea Intec you can design your production processes safely and efficiently without having to make compromises. This starts with individual product features and stops only after exceeding global standards.
Agriculture
Building Materials
Chemical
Cosmetics
Food & Beverage
Machinery / OEM
Pharmaceutical
Confectionery
Agriculture
The processes in the agricultural industry require robust, reliable solutions with safe measurement results. From truck weighing to metal detection, Minebea Intec's extensive range of weighing and foreign body inspection products, both automated and manual, has a high-quality solution for every need.
Our solutions for agriculture industry
Building Materials
For the weighing of building materials, the Minebea Intec portfolio offers the appropriate robustness, durability and IP protection class. Robust dosing, filling and metal detection equipment is also supplied.
Our solutions for the building materials industry
Cosmetics
The highly automated processes in cosmetics production require precise measurement results. Minebea Intec offers versatile industrial weighing solutions for a wide range of applications as well as a broad spectrum of dosing, formulation, sorting, filling and packaging solutions.
Our solutions for cosmetics industry
Food & Beverage
Minebea Intec is a leading supplier of weighing and inspection technologies to the food and beverage production industry. Armed with a deep understanding of the challenges food and drink manufacturers face, the company has developed a range of products and solutions that are perfectly tailored to meet their needs in relation to quality and food/drink safety, while also enhancing efficiency and protecting production equipment.
Our solutions for food and beverage industry
Machinery / OEM
Process integrators and machine manufacturers in various industry sectors can benefit from the precision, hygienic design, corrosion resistance and ingress protection offered by Minebea Intec equipment. A wide product range is available.
Our solutions for machinery / OEM
Confectionery
Whether for weighing products or detecting foreign objects, our technologies ensure reliable processes in the confectionery industry along the production and packaging line. However, product safety and quality are only one side of the coin.
Our solutions for confectionery industry
Mediacenter
Category
File Name
File Size
File Type
Best Practices
Best Practices
Best Practice // Ensuring ATEX compliance for a leader in the aerospace sector
948 KB
pdf
Best practice // Ensuring precision and quality for a versatile dosing station with two weighing points
1,34 MB
pdf
Best Practice // Successful planning and installation of legal-for-trade truck scales
897 KB
pdf
Brochure
Brochure
Brochure // Truck Scale Components
4,67 MB
pdf
Brochure // Vessel and Silo Weighing
5,99 MB
pdf
Manual
Manual
Ex Remote Terminal for Maxxis 5
1,27 MB
pdf
Remote Terminal for Maxxis 5
1,18 MB
pdf
Add info option Y3
1,64 MB
pdf
Installation manual Maxxis 5
3,85 MB
pdf
Operating Instructions BASIC PR 5900/80
1,02 MB
pdf
Operating instructions Maxxis 5
3,88 MB
pdf
CX1 option for PR 5900
2,07 MB
pdf
Operating Instructions IBC PR 5900/86
12,44 MB
pdf
WE1 option for PR 5900
2,58 MB
pdf
Operating Instructions PHASE PR 5900/81
4,37 MB
pdf
Operating Instructions TRUCK PR 5900/84
1,33 MB
pdf
Operating Instructions Count PR 5900/82
727 KB
pdf
Operating Instructions Batch PR 5900/83
1,47 MB
pdf
Datasheet
Datasheet
Datasheet // Weight controller Maxxis 5
3,30 MB
pdf
Product finder