Industrial scales
IU
The pallet scale IU comes in 48 basic models, allowing us to offer an individual weighing solution for the widest possible range of industry requirements at any time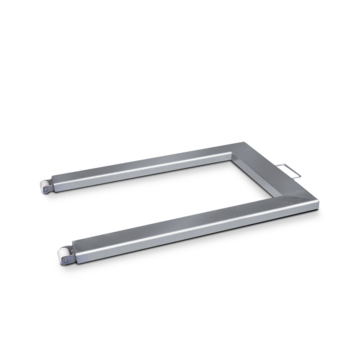 Product features
Pallet Scales IU
A variety of finishes, e.g. stainless steel
Explosion-proof solutions
IP65 or IP68 protection classes
Resolution from 15,000 d to 30,000 d, 1 x 3,000 e and 2 x 3,000 e
Load ranges of between 300 kg and 3,000 kg
Sheet inserts and additional stands available on request
Custom specifications available on request
Applications
Classification

Counting

Fill quantity control

Filling and Dosing

Formulation

Weighing
Certifications
Product details
The IU Series pallet scales are available in various designs, weighing capacities and resolutions. They feature strain-gauge systems (load cells) that provide especially precise resolution. All pallet scales can be configured as high-resolution instruments (15,000d or 30,000d) or for use in legal metrology (1 x 3,000d/e or 2 x 3000d/e). Plus, they can be connected to Minebea Intec Combics Indicators, QCT01 or isi terminals.
Why a pallet scale from Minebea Intec?
Easy handling
Hygienic design
Tough and robust for use with aggressive substances
Rollers for mobility
Reliable construction guaranteeing low maintenance costs and a long service life
Webinar
Identify and avoid disrupting influences
Effects of wind forces
How changes in temperature influences weighing results
Effects of friction and vibrations
Influence of pipes and Connections
Industrial solutions
Our products for your production processes
Our systems and services are oriented towards the requirements of our customers from a wide range of industries. In this way, we ensure that with Minebea Intec you can design your production processes safely and efficiently without having to make compromises. This starts with individual product features and stops only after exceeding global standards.
Agriculture
Building Materials
Chemical
Cosmetics
Food & Beverage
Machinery / OEM
Pharmaceutical
Confectionery
Agriculture
The processes in the agricultural industry require robust, reliable solutions with safe measurement results. From truck weighing to metal detection, Minebea Intec's extensive range of weighing and foreign body inspection products, both automated and manual, has a high-quality solution for every need.
Our solutions for agriculture industry
Building Materials
For the weighing of building materials, the Minebea Intec portfolio offers the appropriate robustness, durability and IP protection class. Robust dosing, filling and metal detection equipment is also supplied.
Our solutions for the building materials industry
Cosmetics
The highly automated processes in cosmetics production require precise measurement results. Minebea Intec offers versatile industrial weighing solutions for a wide range of applications as well as a broad spectrum of dosing, formulation, sorting, filling and packaging solutions.
Our solutions for cosmetics industry
Food & Beverage
Minebea Intec is a leading supplier of weighing and inspection technologies to the food and beverage production industry. Armed with a deep understanding of the challenges food and drink manufacturers face, the company has developed a range of products and solutions that are perfectly tailored to meet their needs in relation to quality and food/drink safety, while also enhancing efficiency and protecting production equipment.
Our solutions for food and beverage industry
Machinery / OEM
Process integrators and machine manufacturers in various industry sectors can benefit from the precision, hygienic design, corrosion resistance and ingress protection offered by Minebea Intec equipment. A wide product range is available.
Our solutions for machinery / OEM
Confectionery
Whether for weighing products or detecting foreign objects, our technologies ensure reliable processes in the confectionery industry along the production and packaging line. However, product safety and quality are only one side of the coin.
Our solutions for confectionery industry
Logistics
Modern logistics processes require innovative and reliable weighing solutions. Minebea Intec truck scales, industrial scales and specialised checkweigher solutions deliver accurate and traceable results every time - from goods in to despatch.
Our solutions for logistics industry
Product finder