Inspection solutions
MITUS®
Maximum product safety even with the highest product effects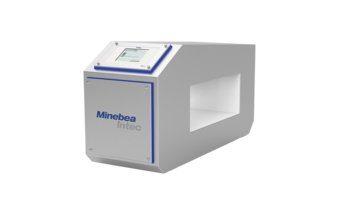 Product details
Metal Detector Mitus®
The new Mitus metal detection system is an inspection solution with the highest precision in detecting foreign objects in all applications where this is required. Using flexible MiWave Modulation Technology, the system ignores fluctuating product effects due to product variations in shape, size and composition, minimising false rejections. Foreign objects are reliably detected. In addition, the metal detector scores with its variety of models, which enables easy integration into existing systems.
Product Video Metal Detector Mitus® with new MiWave Technology
Applications
Foreign body detection

Statistical process control
Product type
Metal detector
Metal detector coils
How-to Guide
How you can choose the right metal detection technology
What kind of foreign objects does the metal detection detect?
Which factors influence the detection result?
What are the advantages of the innovative MiWave technology?
Best Practice
High Presision metal detection for salad dressings
The company has now switched to the metal detector Mitus® with flexible MiWave Modulation in order to reduce erroneous readings and thereby increase productivity:
Significant increase in detection sensitivity in order to ensure the highest possible level of product safety for consumers
Increased productivity due to reduction of erroneous ejections
Easy to clean thanks to hygienic design
Industrial solutions
Our products for your production processes
Our systems and services are oriented towards the requirements of our customers from a wide range of industries. In this way, we ensure that with Minebea Intec you can design your production processes safely and efficiently without having to make compromises. This starts with individual product features and stops only after exceeding global standards.
Agriculture
Building Materials
Cosmetics
Chemical
Food & Beverage
Machinery / OEM
Pharmaceutical
Confectionery
Agriculture
The processes in the agricultural industry require robust, reliable solutions with safe measurement results. From truck weighing to metal detection, Minebea Intec's extensive range of weighing and foreign body inspection products, both automated and manual, has a high-quality solution for every need.
Our solutions for agriculture industry
Building Materials
For the weighing of building materials, the Minebea Intec portfolio offers the appropriate robustness, durability and IP protection class. Robust dosing, filling and metal detection equipment is also supplied.
Our solutions for the building materials industry
Cosmetics
The highly automated processes in cosmetics production require precise measurement results. Minebea Intec offers versatile industrial weighing solutions for a wide range of applications as well as a broad spectrum of dosing, formulation, sorting, filling and packaging solutions.
Our solutions for cosmetics industry
Food & Beverage
Minebea Intec is a leading supplier of weighing and inspection technologies to the food and beverage production industry. Armed with a deep understanding of the challenges food and drink manufacturers face, the company has developed a range of products and solutions that are perfectly tailored to meet their needs in relation to quality and food/drink safety, while also enhancing efficiency and protecting production equipment.
Our solutions for food and beverage industry
Machinery / OEM
Process integrators and machine manufacturers in various industry sectors can benefit from the precision, hygienic design, corrosion resistance and ingress protection offered by Minebea Intec equipment. A wide product range is available.
Our solutions for machinery / OEM
Confectionery
Whether for weighing products or detecting foreign objects, our technologies ensure reliable processes in the confectionery industry along the production and packaging line. However, product safety and quality are only one side of the coin.
Our solutions for confectionery industry
Product finder