Dynamic Checkweighing
OEM Weighing kit
System components for reliable check weighing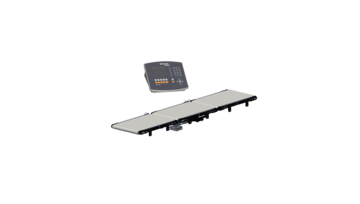 Product details
Strain Gauge OEM Weighing kit
The OEM weighing kit of Minebea Intec based on strain gauge technology allows you to integrate a mid-range checkweigher functionality into your machine or line.
The kit contains all needed components: indicator (built in or wall mounted), infeed, weighing and outfeed conveyors, motors, cabling etc. You can choose from 0,6 kg up to a capacity of 6 kg, and connect the system via various interfaces.
Applications
Classification

Fill quantity control

Statistical process control

Weighing
Product type
Checkweigher
OEM Weighing kit
Product handling
OEM Weighing kit
Integration of a checkweigher functionality
IP protection class
Built-In: depends on client situation
Wall mounted: IP65
Product Enhancements
The dialog language is available in 5 languages
Product memory can store up to 100 products
The system has 3 password-protected levels
Individual weight data can be transmitted via serial interface, RS232 and RS485. Optional ProfiNET and logging system
Optional check of completeness with floating average
Optional USB Print
Webinar
How to benefit from Foreign Body Detection
What are foreign bodies
Possibilities of foreign object detection
Performance limits of current technologies
Peripherals and monitoring
Industrial solutions
Our products for your production processes
Our systems and services are oriented towards the requirements of our customers from a wide range of industries. In this way, we ensure that with Minebea Intec you can design your production processes safely and efficiently without having to make compromises. This starts with individual product features and stops only after exceeding global standards.
Machinery / OEM
Process integrators and machine manufacturers in various industry sectors can benefit from the precision, hygienic design, corrosion resistance and ingress protection offered by Minebea Intec equipment. A wide product range is available.
Our solutions for machinery / OEM
Product finder