Working world
What Minebea Intec offers you as an employer.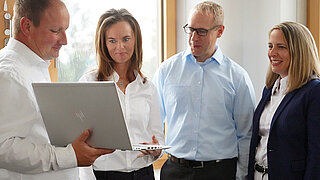 Working environment at Minebea Intec
For us, a pleasant working environment also means a balance between work and family life. That is why we have a flexible flexitime system and home office options. In addition, we offer all the advantages of a medium-sized company, such as short decision-making and communication channels, a personal corporate culture and a collegial environment. This is reflected in the long-standing loyalty of our employees to our company, which we are very pleased about. For example, many celebrate their 30th or even 40th anniversary with us.
Benefits at Minebea Intec
Personnel development
Individual personnel development measures increase the potential of our company. Our varied offer ranges from specialist seminars on research and development to time management and communication training.
Work-life balance
Of course, overtime can sometimes occur during intensive phases but with us, this is recorded and can be easily reclaimed later. As a family-friendly company, working in a home office is also standard - unless your activities, e.g. in production, do not allow it. In general, however, we place great emphasis on flexibility in these areas of work as well.
Internationality
Being part of the Japanese Minebea Group and our global presence make Minebea Intec a company of diversity. Therefore, you will fit in if you are open to other cultures, interested in people with different backgrounds and enjoy languages - especially English.
Affiliation
We are proud to be able to congratulate a large number of employees each year on their many years with the company. One of them is Klaus Breitenbach, who has been with us for 40 years. For us, this is a sign of an excellent working atmosphere and collegiality of which we are proud.
As a salesperson and works council, I like to heed Henry Ford's quote - If there is any one secret of success, it lies in the ability to get the others's point of view and see things from that person's angle as well as from your own.
Klaus Breitenbach
Awards
Our commitment and professionalism in the field of human resources is confirmed by a large number of awards in Germany and elsewhere.
Team events
Parties, sports and cool drinks: We regularly create opportunities to celebrate joint successes outside of the daily work routine.
For example, one of our last summer events was a cool beach party with Caribbean flair, or we took part in the "Mopo Run" in Hamburg's Stadtpark and "Tour d'Energie" in Göttingen.
Your future workplace
"Moin" or simply hello at the headquarters!
Our headquarters are in Hamburg, but in Germany we also have offices in Aachen and Bovenden. We are represented worldwide in Belgium, China, France, Great Britain, The Republic of Ireland, India, Italy, the Netherlands, Mexico, Austria, Poland, Switzerland and the USA.
Our offices are not only well equipped, we also provide you with the hardware and software you need to work efficiently. We do it this way: you take care of what you do best, and we take care of the rest.
Apply!
If you are looking for new professional challenges, valuable practical experience or a promising start to your career - Minebea Intec is the right place for you.
Product finder