product inspection that allows you to enjoy sweets safely

Compact, flexible and reliable

Sweets manufacturer SAILA wanted to add a metal detector to its existing production system. The inspection solution had to be able to identify different kinds of foreign objects in a reliable way, without taking up a large amount of space.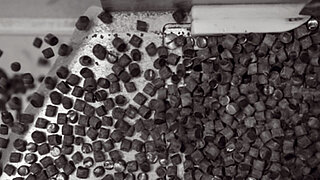 Key facts
The new metal detector was to be added to an existing production line and needed to be able to identify the tiniest metal contaminants in the early stages of production, in order to guarantee the high quality of the company's product. To achieve this, the new metal-detection solution was introduced immediately after the compressor.
Application & Product
After coming out of the compressor, the loose sweets are passed through the metal detector, which has a very small opening for detecting the smallest contaminants.
Products
Customer benefits
The compact design of the metal detector makes it easy to install in a production line
The system is easy to clean
Any products contaminated by foreign objects are reliably identified
"Our mission is to monitor the entire production line – from manufacture to delivery – in order to guarantee quality at each step. Minebea Intec helped us achieve our objectives right down to the smallest detail."
Vincenzo Fusco
Director of the SAILA factory
For 80 years, Italian food company SAILA has been producing sweets at its historic factory in Silvi Marina, Teramo. The renowned manufacturer of liquorice sweets added mint-based sweets to its production lines in 1950, and began selling them in their traditional bags in 1964. The SAILA brand was a trailblazer once again in 1978, when it launched its boxed sweets. In order to ensure high quality standards in the earliest production stages, SAILA decided to use a metal detector immediately after the compressor stage, and well before the final packaging of the product. This is where Minebea Intec came in, creating a compact solution for inspecting the loose sweets. The adopted solution has enabled reliable checks and secure detection of metal contaminants inside the sweets.
However this was only the beginning. SAILA put their trust in Minebea Intec to provide other control and inspection solutions along the entire production line at the factory in Silvi Marina, in order to guarantee the production process to its very end. In fact, several checkweigher CoSynus® combined model groups (checkweigher and metal detector) are installed in the factory for checking the packaging and ensuring that pre-packaged products conform with Italian Law 690. These weighing machines are then connected to the SPC@Enterprise software, which enables real-time production checks, minimising downtime and improving production performance. In addition, a final check is also carried out using an checkweigher Essentus®. This ensures that no package leaves the SAILA factory with a box of sweets missing.
Product finder