Application process
Your way to Minebea Intec.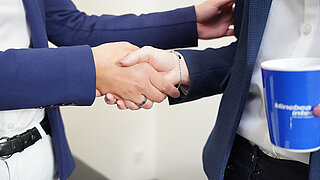 Your application
You will find all vacancies in our online job portal. There you can apply directly and easily for an advertised position.
To do this, create your account, create your profile and upload your documents. Your application should give us as vivid and realistic a picture as possible of your personality, skills and qualifications, and make clear your motivation for applying. Complete documents include your CV and references/certificates. A cover letter is not obligatory - to complete your application, you are also welcome to send us a link to your XING or LinkedIn profile.
After you have created your application in our job portal, you will receive a confirmation of receipt by e-mail. Next, we will check your application. This may take some time under certain circumstances.
For sustainability reasons and also for faster processing, we ask you to refrain from sending applications in paper form or via e-mail.
The interview
If you are considered for a shortlist, we will contact you to arrange an initial interview, possibly in the form of an online interview.
If we have established that the requirements and expectations match, we will hold a (further) personal interview. This is usually prepared by a potential analysis. If we are still convinced of a cooperation after this interview, we will send you a contract offer.
All our vacant positions are advertised on our job board. We ask for your understanding that we cannot process unsolicited applications.
Your start at Minebea Intec
"It is often said that" all beginnings are difficult
To ensure that this is not the case, we have structured and well thought-out induction plans as well as cross-site Welcome Workshops. Here you will get to know every department. Of course, this also includes our production department, where you will be introduced to the production steps by our colleagues.
In addition to the induction plan handed out by our HR department, you will also receive a subject-specific induction plan from your manager. Do you need intensive product training? Would you like to dive deeper into the customer project business? Does it make sense for you to get to know the other locations?
No matter what you need for an ideal start with us, we'll make sure you get it. Because we know very well that "first impressions count"
Your benefits at Minebea Intec
We offer many benefits - from flexible working time models and attractive special benefits to individual further development.
Apply!
If you are looking for new professional challenges, valuable practical experience or a promising start to your career - Minebea Intec is the right place for you.
Product finder