Load cells
PR 6201
Precision pressure load cell from 100 t to 520 t especially for weighing of high load silos, tanks and process vessels.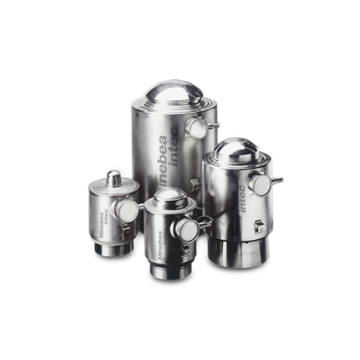 Product details
Precision Compression Load Cell PR 6201
The PR 6201 series load cells are specially designed for weighing high load silos, tanks and process vessels. Their unique design principle, in conjunction with the FlexLock installation kits, enables them to compensate for movements caused by mechanical or thermal contraction or expansion of the container or the support structure.
In addition to the high measuring accuracy and reproducibility, this series is characterised above all by unrivalled reliability, robustness and stability.
The pendulum support principle, in conjunction with the patented measuring element geometry, ensures that the force introduced into the sensor is always optimal, thus minimising the influence on the measuring accuracy while at the same time providing a particularly wide overload range, very high reproducibility and perfect linearity.
A pre-adjustment of the entire measuring chain can be carried out without a reference weight. Due to the - matched output - technology, it is possible to replace a damaged load cell without the need for a new calibration. This saves an enormous amount of time during commissioning. As an option, load cells of this series are also available as Ex-version for use in intrinsically safe circuits.
Applications
Fill quantity control

Filling and Dosing

Weighing
Certifications
Product type
Load cells
Bin and silo scales 100 t - 520 t
Product handling
Proven pendulum support principle for optimum compensation of expansion and shear forces
Material
Load cell housing: Stainless steel 1.4301
Industrial solutions
Our products for your production processes
Our systems and services are oriented towards the requirements of our customers from a wide range of industries. In this way, we ensure that with Minebea Intec you can design your production processes safely and efficiently without having to make compromises. This starts with individual product features and stops only after exceeding global standards.
Food & Beverage
Chemical
Machinery / OEM
Agriculture
Building Materials
Food & Beverage
Minebea Intec is a leading supplier of weighing technologies to the food and beverage production industry. Armed with a deep understanding of the challenges food and drink manufacturers face, the company has developed a range of products and solutions that are perfectly tailored to meet their needs in relation to quality and food/drink safety, while also enhancing efficiency and protecting production equipment.
Our solutions for food and beverage industry
Machinery / OEM
Process integrators and machine manufacturers in various industry sectors can benefit from the precision, hygienic design, corrosion resistance and ingress protection offered by Minebea Intec equipment. A wide product range is available.
Our solutions for machinery / OEM
Agriculture
The processes in the agricultural industry require robust, reliable solutions with safe measurement results. Minebea Intec's extensive range of weighing products, both automated and manual, has a high-quality solution for every need.
Our solutions for agriculture industry
Building Materials
For the weighing of building materials, the Minebea Intec portfolio offers the appropriate robustness, durability and IP protection class. Robust dosing and filling equipment is also supplied.
Our solutions for the building materials industry
Product finder