Industrial scales
Midrics®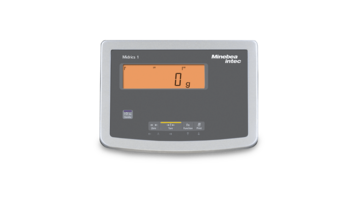 Product details Weight Indicators Midrics®
Depending on the application, the weighing indicator Midrics® can be set up independently of the platform location or mounted on a pedestal. Easy-to-use versatile application programs for applications such as counting, checking or pre-packaging control are already pre-installed. Two product variants are available:
Midrics® Indicator MIS 1
Display 20 mm LCD, 14-segment for weighing data, backlit
Membrane switch, optional RS232, RS485, RS422, 4-20mA
Midrics® scale indicator MIS2
Display 20 mm LCD, 14-segment for weighing data, bar graph, backlit
Connection for barcode reader, battery operation
Optional: RS232, RS485, RS422, 4-20mA, digital inputs/outputs with selectable application programme: weighing, counting, checking, classifying (3 or 5 classes), totalising, net-total, weighing in percent or neutral measuring
Applications
Classification

Counting

Fill quantity control

Filling and Dosing

Formulation

Weighing
Certifications
Product type
Weighing electronics
Desktop weighing indicators and controllers
Product handling
Easy operation and cleaning
Weighing indicator can be set up independently of the platform location, depending on the application
Industrial Solutions
Our products for your production processes
Our systems and services are oriented towards the requirements of our customers from a wide range of industries. In this way, we ensure that with Minebea Intec you can design your production processes safely and efficiently without having to make compromises. This starts with individual product features and stops only after exceeding global standards.
Food & Beverage
Pharmaceutical
Chemical
Logistics
Agriculture
Cosmetics
Building Materials
Food & Beverage
Minebea Intec is a leading supplier of weighing technologies to the food and beverage production industry. Armed with a deep understanding of the challenges food and drink manufacturers face, the company has developed a range of products and solutions that are perfectly tailored to meet their needs in relation to quality and food/drink safety, while also enhancing efficiency and protecting production equipment.
Our solutions for food and beverage industry
Logistics
Modern logistics processes require innovative and reliable weighing solutions. Minebea Intec truck scales and industrial scales solutions deliver accurate and traceable results every time - from goods in to despatch.
Our solutions for logistics industry
Agriculture
The processes in the agricultural industry require robust, reliable solutions with safe measurement results. Minebea Intec's extensive range of weighing products, both automated and manual, has a high-quality solution for every need.
Our solutions for agriculture industry
Cosmetics
The highly automated processes in cosmetics production require precise measurement results. Minebea Intec offers versatile industrial weighing solutions for a wide range of applications as well as a broad spectrum of dosing, formulation, sorting, filling and packaging solutions.
Our solutions for cosmetics industry
Building Materials
For the weighing of building materials, the Minebea Intec portfolio offers the appropriate robustness, durability and IP protection class. Robust dosing and filling equipment is also supplied.
Our solutions for the building materials industry
Mediacenter
Category
File Name
File Size
File Type
Datasheet
Datasheet
Datasheet // Bench and floor scale Midrics®
1,89 MB
pdf
Manual
Manual
Midrics MW1 | MW2 Complete Scales
3,36 MB
pdf
YFP01MWS Fastening Kit Midrics Weighing Platforms
146 KB
pdf
YDO01M-232 (A11), YDO01M-232CLK (A31), YDO01M-232CO (A1), YDO01M-485 (A2 | A3), YDA01M-20MA (A9), YDO01M-IO (A5), YDO01M-EN (B9) Data Output Port for Midrics® COM1 and UniCOM Interfaces
2,24 MB
pdf
Pit Frame Edges YEG01...08
937 KB
pdf
Midrics: Option Y2 for Use in Zone 2 and in 22 Hazardous Areas
4,65 MB
pdf
Combics; Midrics; Signum Option E5. Alibi Memory
5,26 MB
pdf
YAS02MI Option: L8, 24 V Industrial Power Supply Module for Midrics | Signum Indicators
1,40 MB
pdf
Built-in Rechargeable Battery Option L9 for Signum Midrics Models
750 KB
pdf
YAS03MI Wall-Mounted Retainer for the Midrics Indicator
204 KB
pdf
Built-in Rechargeable Battery (Option L9)
750 KB
pdf
YAS02MI (Option: L8)24 V Industrial Power Supply Module for Midrics | Signum Indicators
1,40 MB
pdf
Combics, Midrics®, Signum®: Option E5 Verifiable Alibi Memory
5,26 MB
pdf
Midrics: Option Y2 for Use in Zone 2 and 22 Hazardous Areas
4,65 MB
pdf
Combics, Midrics®, Signum®: Option E5, Verifiable Alibi Memory
563 KB
pdf
Midrics MAPP1...4, MAPS1...4 Weighing Platforms
439 KB
pdf
Midrics | Signum: Option Y2 Models: MIS1... | MIS2... | MAPP1...4 | MAPS1...4 | MW1... | MW2... Display and Control Units, Weighing Platforms and Complete Scales for Use in Zone 2 and 22 Hazardous Areas
2,51 MB
pdf
Drive-on ramp for Midrics weighing platforms (from size 800 x 800mm and up)
541 KB
pdf
24 V Industrial Power Supply Module for Midrics | Signum Indicators
1,40 MB
pdf
Fastening Kit for Midrics Weighing Platforms
146 KB
pdf
Pit Frame Edges YEG01...08
937 KB
pdf
Best Practices
Best Practices
Best Practice // A truck weighbridge solid as rock – thanks to load cells by Minebea Intec
1,39 MB
pdf
Brochure
Brochure
Brochure // Industrial Bench and Floor Scales
4,86 MB
pdf
Drawing 3D
Drawing 3D
DRW_3D_MAPP4-RN_painted_36428-000-65_C5A_000_01
525 KB
pdf
DRW_3D_MAPP1-DC_painted_36418-000-65_C5A_000_03
302 KB
pdf
DRW_3D_MAPP1-IG_300 kg_painted_36422-000-65_C5A_000_03
220 KB
pdf
DRW_3D_MAPP1-GF_300 kg_painted_36421-000-65_C5A_000_03
223 KB
pdf
DRW_3D_MAPP1-ED_painted_36419-000-65_C5A_000_03
249 KB
pdf
DRW_3D_MAPS1-IG_stainless steel_36435-000-65_C5A_000_02
249 KB
pdf
DRW_3D_MAPP1-IG_painted_36422-000-65_C5A_000_03
255 KB
pdf
DRW_3D_MAPP1-GF_painted_36421-000-65_C5A_000_03
258 KB
pdf
DRW_3D_MAPP1-FE_painted_36420-000-65_C5A_000_03
272 KB
pdf
Drawing 2D
Drawing 2D
DRW_2D_MAPS1-IG_stainless steel_36435-000-65_C5D_000_02
361 KB
pdf
DRW_2D_MAPP1-GF_painted_36421-000-65_C5D_000_03
392 KB
pdf
DRW_2D_MAPP1-IG_painted_36422-000-65_C5D_000_03
392 KB
pdf
DRW_2D_MAPP1-FE_painted_36420-000-65_C5D_000_03
406 KB
pdf
DRW_2D_MAPP4-RN_painted_36428-000-65_C5D_000_01
416 KB
pdf
DRW_2D_MAPP1-ED_painted_36419-000-65_C5D_000_03
418 KB
pdf
DRW_2D_MAPP1-DC_painted_36418-000-65_C5D_000_03
421 KB
pdf
Product finder