Load cells
PR 6211
Compression load cells from 30 kg to 300 kg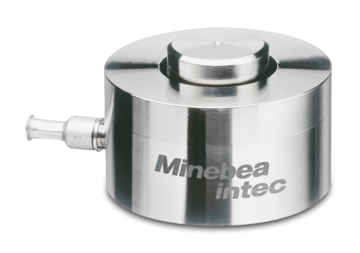 Product features
Compact Compression Load Cell PR 6211
Specially designed for container weighing and use in confined spaces. Can be used in Ex zone 2, 22 and FM DIV 1.
Compact design ensuring a low system height
Load cell capacity range from 30 kg to 300 kg
Extreme wide temperature range
Corresponding mounting kits
Applications
Fill quantity control

Filling and Dosing

Weighing
Certifications
Product details
The PR 6211 range of load cells is specially designed for weighing silos, tanks and process vessels. The unique design principle facilitates a particularly compact construction and, as a result, the unit can be used even in restricted space conditions. The FlexLock installation kits counterbalance movements arising from mechanical or thermal expansion or contraction of the vessel or its supporting construction. A particular design characteristic of some models is the thin-film or "splutter" technology. This enables an operating temperature of up to 180°C to be reached. In addition, the small construction has integrated overload protection of 500 kg.
Corresponding mounting kits:
Mounting kits with or without constrainer PR 6011
Mounting kits with or without constrainer and additional functions PR 6012
Industrial solutions
Our products for your production processes
Our systems and services are oriented towards the requirements of our customers from a wide range of industries. In this way, we ensure that with Minebea Intec you can design your production processes safely and efficiently without having to make compromises. This starts with individual product features and stops only after exceeding global standards.
Food & Beverage
Pharmaceutical
Chemical
Cosmetics
Machinery / OEM
Food & Beverage
Minebea Intec is a leading supplier of weighing technologies to the food and beverage production industry. Armed with a deep understanding of the challenges food and drink manufacturers face, the company has developed a range of products and solutions that are perfectly tailored to meet their needs in relation to quality and food/drink safety, while also enhancing efficiency and protecting production equipment.
Our solutions for food and beverage industry
Cosmetics
The highly automated processes in cosmetics production require precise measurement results. Minebea Intec offers versatile industrial weighing solutions for a wide range of applications as well as a broad spectrum of dosing, formulation, sorting, filling and packaging solutions.
Our solutions for cosmetics industry
Machinery / OEM
Process integrators and machine manufacturers in various industry sectors can benefit from the precision, hygienic design, corrosion resistance and ingress protection offered by Minebea Intec equipment. A wide product range is available.
Our solutions for machinery / OEM
Product finder