Single Point load cell
MP 55
The MP 55 Platform Weigh Cell is made completely from stainless steel, is available in a load range from 11 kg to 200 kg and platform sizes up to 600 mm x 600 mm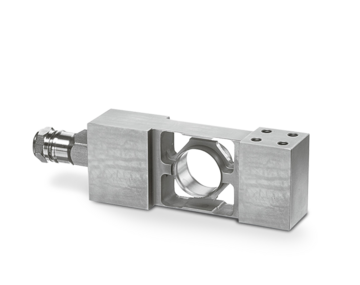 Product features
Platform Load Cell MP 55
It is specially designed for integration into beltweighers, counting scales and checkweighers.
Protection class IP68, IP69K
Full stainless steel construction
Hermetically welded seal (IP68, IP69K)
Platform size up to 600 mm x 600 mm
Approved to OIML R60
Ex-Version available (MP55/...E)
High Input Impedance
Integrated Mounting spacer
Applications
Fill quantity control

Filling and Dosing

Weighing
Certifications
Product details
Types:

MP 55/ 11kg C3MR+
MP 55/ 22kg C3MR+
MP 55/ 50kg C3MR+
MP 55/100kg C3MR+
MP 55/200kg C3MR+
Certificate of conformity Features:
Feature: II 1G and 1D EEx ia IIC T6|T5|T4 130°C, II 1D IP65 T 130°C; Reg. Number: KEMA 04ATEX 1253x
Order number for ATEX load cells:
9408 6.. .....e.g. MP55/10kg C3MR E = 9408 655 07010
Single point load cells: Highly accurate measurement results with only one load cell
This How-to Guide describes the characteristics of single point load cells. This should facilitate the selection of the appropriate load cell for the application. The target audience is the user who has to select and correctly use sensors and cells for integration into machines and static scales as part of product development.
Industrial solutions
Our products for your production processes
Our systems and services are oriented towards the requirements of our customers from a wide range of industries. In this way, we ensure that with Minebea Intec you can design your production processes safely and efficiently without having to make compromises. This starts with individual product features and stops only after exceeding global standards.
Food & Beverage
Pharmaceutical
Chemical
Cosmetics
Machinery / OEM
Confectionery
Dairy
Plastics
Building Materials
Agriculture
Logistics
Food & Beverage
Minebea Intec is a leading supplier of weighing technologies to the food and beverage production industry. Armed with a deep understanding of the challenges food and drink manufacturers face, the company has developed a range of products and solutions that are perfectly tailored to meet their needs in relation to quality and food/drink safety, while also enhancing efficiency and protecting production equipment.
Our solutions for food and beverage industry
Cosmetics
The highly automated processes in cosmetics production require precise measurement results. Minebea Intec offers versatile industrial weighing solutions for a wide range of applications as well as a broad spectrum of dosing, formulation, sorting, filling and packaging solutions.
Our solutions for cosmetics industry
Machinery / OEM
Process integrators and machine manufacturers in various industry sectors can benefit from the precision, hygienic design, corrosion resistance and ingress protection offered by Minebea Intec equipment. A wide product range is available.
Our solutions for machinery / OEM
Confectionery
Our technologies ensure reliable processes in the confectionery industry along the production and packaging line. However, product safety and quality are only one side of the coin.
Our solutions for confectionery industry
Building Materials
For the weighing of building materials, the Minebea Intec portfolio offers the appropriate robustness, durability and IP protection class. Robust dosing and filling equipment is also supplied.
Our solutions for the building materials industry
Agriculture
The processes in the agricultural industry require robust, reliable solutions with safe measurement results. Minebea Intec's extensive range of weighing products, both automated and manual, has a high-quality solution for every need.
Our solutions for agriculture industry
Logistics
Modern logistics processes require innovative and reliable weighing solutions. Minebea Intec truck scales and industrial scales solutions deliver accurate and traceable results every time - from goods in to despatch.
Our solutions for logistics industry
Product finder