Industrial scales
SIGNUM®
The compact solution for numerous applications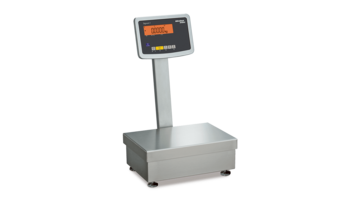 Product details Bench and floor scale Signum®
Signum is the compact solution for numerous industries. In daily weighing, the bench scale is characterised by short measuring times, flexibility and safety. Depending on the application, the weighing indicator can be set up independently of the platform location or mounted on a pedestal. Depending on the precision level, models in Supreme, Advanced or Regular versions are available. Your advantages:
Three intuitively operated indicators with different application levels
Protection classes IP43 or IP65
Various material versions, e.g. stainless steel
Load ranges from 0.6 kg to 65 kg
Readability from 0.001 g to 10 g
Platforms in various designs and dimensions
Calibration version and Ex solutions
Large variety of interfaces
Wide range of accessories, options and extensions
Ready for the future of industrial automation" with our miOPC software
Certifications
Applications
Classification

Counting

Fill quantity control

Filling and Dosing

Formulation

Statistical process control

Statistics

Weighing
Product type
Bench scales in three precision levels to suit your needs
Product handling
Precise weighing for various applications
Suitable for a wide range of industries
Product enhancements
Particularly suited for uses such as:
Automatic and manual dosing and filling
Manual dispensing, production of mixtures
Totalling and picking of orders
Classing, classification and sorting by weight
Part counts for materials management
Simple recording of weights with logs for documentation
Checking, for example when checking contents of pre-packaged units
Weighing containers and vessels for storage management
Standard SG weighing system
Resolution up to 35,000 d
High level of built-in overload protection
Mechatronic SG weighing system
Resolutions up to 80,000 d / 150,000 d
Both high-resolution and economical thanks to added electronic compensation
Monolithic EMFC weighing system
Resolutions up to 350,000 d / 620,000 d
Precise measurements that minimise product loss and increase profitability
Precise measurements at all times thanks to the built-in motorised calibration weight
You need help configuring your weighing or inspection-solution?
Simply send us your questions or requests via the contact form or give us a call. We will be happy to help you.

Request a consultation
Which static industrial scale is the right one for your process?
The choice of the right static industrial scale is not easy in view of the broad selection: Our White Paper provides an overview of the important criteria for decision-making and provides the reader with the necessary information for purchasing industrial scales.
Industrial solutions
Our products for your production processes
Our systems and services are oriented towards the requirements of our customers from a wide range of industries. In this way, we ensure that with Minebea Intec you can design your production processes safely and efficiently without having to make compromises. This starts with individual product features and stops only after exceeding global standards.
Agriculture
Building Materials
Chemical
Cosmetics
Food & Beverage
Machinery / OEM
Pharmaceutical
Confectionery
Agriculture
The processes in the agricultural industry require robust, reliable solutions with safe measurement results. From truck weighing to metal detection, Minebea Intec's extensive range of weighing and foreign body inspection products, both automated and manual, has a high-quality solution for every need.
Our solutions for agriculture industry
Building Materials
For the weighing of building materials, the Minebea Intec portfolio offers the appropriate robustness, durability and IP protection class. Robust dosing, filling and metal detection equipment is also supplied.
Our solutions for the building materials industry
Cosmetics
The highly automated processes in cosmetics production require precise measurement results. Minebea Intec offers versatile industrial weighing solutions for a wide range of applications as well as a broad spectrum of dosing, formulation, sorting, filling and packaging solutions.
Our solutions for cosmetics industry
Food & Beverage
Minebea Intec is a leading supplier of weighing and inspection technologies to the food and beverage production industry. Armed with a deep understanding of the challenges food and drink manufacturers face, the company has developed a range of products and solutions that are perfectly tailored to meet their needs in relation to quality and food/drink safety, while also enhancing efficiency and protecting production equipment.
Our solutions for food and beverage industry
Machinery / OEM
Process integrators and machine manufacturers in various industry sectors can benefit from the precision, hygienic design, corrosion resistance and ingress protection offered by Minebea Intec equipment. A wide product range is available.
Our solutions for machinery / OEM
Confectionery
Whether for weighing products or detecting foreign objects, our technologies ensure reliable processes in the confectionery industry along the production and packaging line. However, product safety and quality are only one side of the coin.
Our solutions for confectionery industry
Logistics
Modern logistics processes require innovative and reliable weighing solutions. Minebea Intec truck scales, industrial scales and specialised checkweigher solutions deliver accurate and traceable results every time - from goods in to despatch.
Our solutions for logistics industry
Product finder